Ask someone in Luzern where to get the best pizza in town and chances are big they will tell you to visit La Bestia. Quite an achievement, as Luzern has many, very many pizzerias to accomodate the loads of tourists visiting the town every year. But La Bestia ticks many boxes: a young crowd; stylish interior with an open kitchen and a terrace in a very popular neighborhood. Let me tell you more about the pizza dream of many people in this town!
La Bestia is located at Frankenstrasse 6A, around the corner from the Luzern train station and a stone's throw from the Vögeligärtli park. The popular Asian restaurant Blossom Alley is located on the same street.
Inside, the restaurant is calmly decorated with nice ceiling light fixtures, hard wooden floors and simple but elegant furniture. The centerpiece of the restaurant is the open kitchen where pizza's come flying out in a high pace throughout the evening.
Common and uncommon pizza options
It is clear that La Bestia only uses the freshest ingredients. The pizzas are baked to perfection with a nice crust and expected and unexpected toppings. Who can say no to Fior di Latte mozarella and fresh Italian tomatoes? If you are more adventurous, why not try the Tartufo del Bosco, a pizza combining mascarpone with walnuts, truffle, mushrooms, and (yes you are reading that right) blueberries?

The La Bestia menu has several vegetarian pizza options and even offers some salads and other antipasti appetizers. Our company ordered several different pizzas and none of us ended up being disappointed.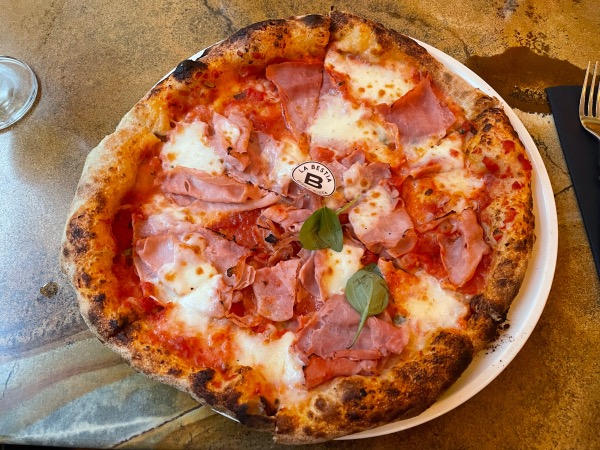 La Bestia, not a budget pizzeria!
If you are looking for a place to have a budget meal, La Bestia might not be your first choice. While a few of the simpler pizza variaties start under CHF 20, some of the pizza specialties cost over CHF 30. That is quite the price for a pizza!
However, as mentioned earlier, La Bestia offers quality pizzas with a surprising combination of ingredients.
It is no surprise that this restaurant is very popular with both locals and people visiting Luzern. In order to avoid disappointment, we recommend making a dinner reservation in advance. This holds especially true in the weekend, when many people are celebrating their days off by visiting restaurants
Also available in the Luzern train station
Are you only visiting Luzern for the day and don't have time for dinner in a sit-down restaurant? Not to worry! La Bestia also has a smaller venue at the far end of the Luzern train station (by track 15). Here, you can get delicious pizza slices that you can bring with you for the train ride!
This way, you can get to taste the La Bestia pizza without visiting their main restaurant on the Frankenstrasse in Luzern.
You can read more information on La Bestia and its menu on the restaurant's website.
La Bestia – Pizza
Frankenstrasse 6a
6003 Luzern
Switzerland