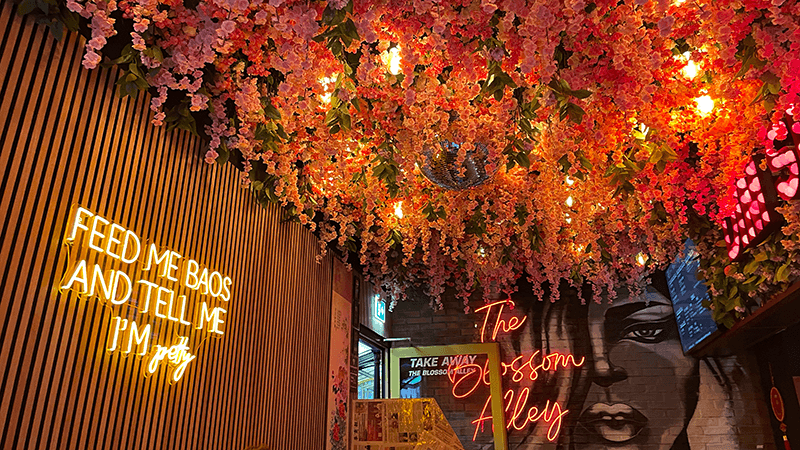 Blink and you'll miss it; The Blossom Alley in Luzern is truly a tiny restaurant! The lucky few that get a seat at one of the 5 tables in this restaurant are sure to be treated to some flavourful dumplings and richly filled bao buns. With Luzern station and many bars around the corner, the Blossom Alley has all the ingredients to become a favorite in the city.
Asian street food is something many primarily know from food trucks on festivals, or when traveling abroad. However, at The Blossom Alley, that's all you'll be getting. The menu of the restaurant is short, to say the least. Two types of steamed dumplings and two types of bao buns, that's all they're serving. (I am not counting the side dishes). Is that boring, I hear you ask? The answer is no, because The Blossom Alley managed to find ingredient combinations that have one craving for more.
Instagram paradise
Boring is either way not a word that would fit with The Blossom Alley in Luzern. As already mentioned, the restaurant is tiny. But at the same time, the restaurant is decorated to the point where the interior is every Instagrammers dream. Blossom hangs from the ceiling, exposed brick walls with neon lights, and loads of steaming baskets to top it all off – Blossom Alley looks great!
The dishes themselves are colorful and are – served in an authentic steaming basket – also very photogenic. Take out your camera before taking a bite, influencers!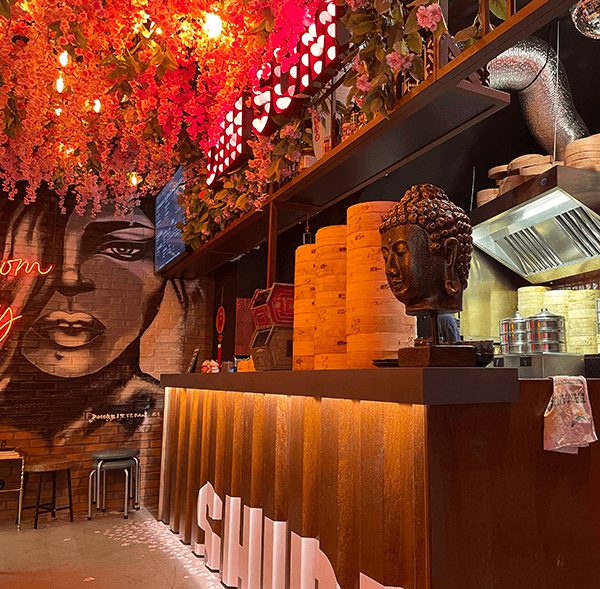 Flavorful with a minor disappointment
When the dishes came out (we all ordered a mix of the dumplings and the bao buns), we could not wait to dig in. The dumplings were steamed to perfection and the lemongrass chicken variety went really well with a bit of soy sauce. Good to mention that there is a vegan option for both the Bao buns and for the dumplings!
The bao buns were also filled with delicious ingredients, but there was one minor disappointment: the bao we got served were cold instead of warm and steamy. That was a pity, considering the taste was so good! We were all very hungry and thus did not inform the staff of the mishap, and I am hoping on the next visit I am greeted with fluffy hot bao buns. You heard that right, I will definitely be back at The Blossom Alley in Luzern. As mentioned, the decor is amazing, the staff is very cute and accommodating and the food is yummy. And did I mention it is affordable too? A mixed plate (well, basked rather) with both bao buns and 4 dumplings cost 20 CHF. That is a good price in a country where many Asian restaurants (admittedly, most serving sushi) charge much higher prices for a meal.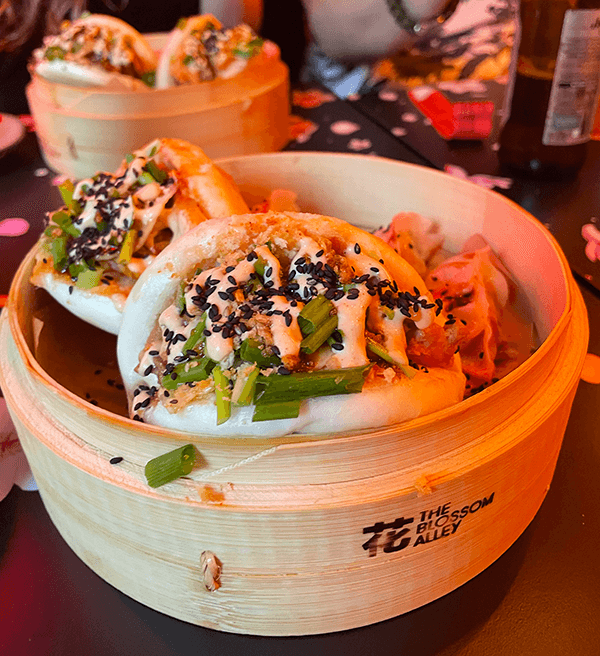 Book a table just to be sure
When we paid a visit to The Blossom Alley, Luzern was experiencing one of it's hot pre-summer days. As a result, the restaurant was almost empty as everyone was flocking to the terraces. However, considering the size of The Blossom Alley, I recommend booking a table on their website to be sure. You wouldn't want to risk be without those Bao buns, would you?

If you are not in the mood for a restaurant, it's good to know that The Blossom offers take-away too!

The Blossom Alley
Frankenstrasse 2
6003 Luzern
Website