Since moving to Switzerland, we have taken full advantage of the bakery culture in this country. Nice sandwiches for lunch and of course a zopf on Sundays! Lucerne, our home town, has many bakeries to choose from for our bread runs. However, there is one chain you'll see everywhere, and for good reason. Let me introduce you to Bachmann, the famous bakery chain of Lucerne that has been operating for over 125 years!
Fresh sandwiches at their stores
While Bachmann is known for many things, I appreciate their stores for always having delicious, freshly made sandwiches for sale at a very reasonable price. This makes their bakeries the perfect spot to drop in prior to going for a picnic or hike! They have two stores located in the Lucerne train station, conveniently located to stock up before you hop on a train.
Speaking of these shops, the shop in the basement of the station also sells absolutely delicious pastries and cakes!
The ice cream of Bachmann
Especially in the summer, Lucerne is a very popular tourist destination. Combine that with the lovely weather we get to enjoy during the warming months, it makes the perfect recipe for a city with plenty ice cream parlors. There are some good ones, some bad ones but there is only one Bachmann. At the Kurplatz next to the Schweizerhofquai, Bachmann has an ice cream shop where people are queuing year-round for the delicious Bachmann products. Of course the ice cream in the spring and summer is extremely popular, but the shop also opens it shop during the colder months of the years. During that period, the shop sells maroni, or roasted chestnuts, a beloved winter snack in Switzerland.
The ice cream of Bachmann comes in plenty of flavours, each of which are delightful. The scoops served are very big with a reasonable CHF 3.60 charged per scoop. Two scoops gives you a huge ice creams that will take you 15 minutes to finish! On sunny weekends, we always make our way past Bachmann at least once for a delicious treat.
Zopf – the most popular Swiss bread
For us, Sunday isn't complete without a Swiss Zopf, a braided buttery bread. It goes wonderfully with some slices of Gruyère cheese, with some fruity jams or of course good old Nutella. In Luzern, we are a big fan of the Zopf sold at the Andermatt bakery in the Neustadt area, but the Zopf sold at Bachmann is amazing as well. You can get it fresh at many of their bakeries, of which the ones at the train station and Schwanenplatz are opened on Sunday for that traditional Sunday Zopf.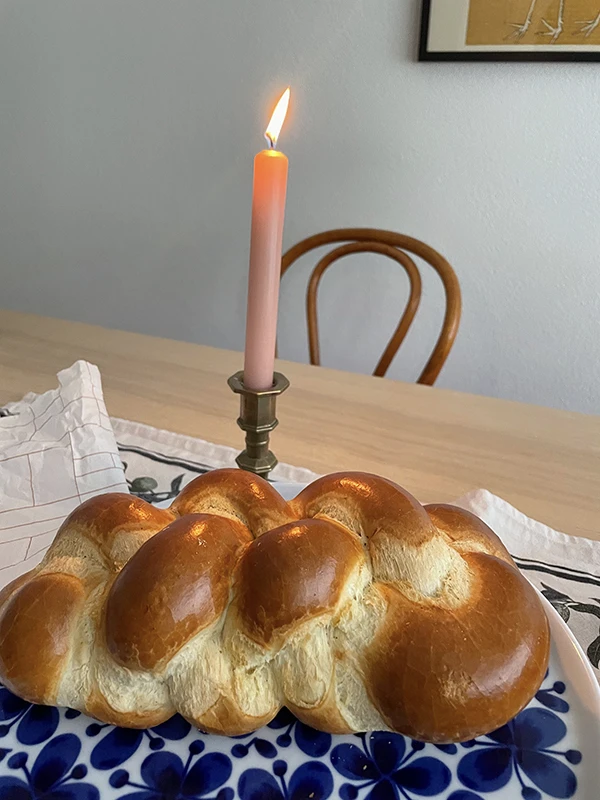 Sit down at La vie en Rose or Schwanenplatz
I know Bachmann primarily as a place to pick up my freshly baked bread, a sandwich on-the-go or an ice cream. However, the chain has at least two stores in Luzern where it is very nice to sit down for a coffee. The most popular of the two with locals in the La vie en Rose café on the Pilatusstrasse, not far from central station. Here, you can come seven days a week for a coffee, breakfast or an amazing lunch. They serve breakfast items, have hot dishes and also have a wide variety of delicious pastries. Definitely a place to visit if you happen to be in Luzern on a rainy day!
Secondly, Bachmann also has a café connected to their Schwanenplatz shop. Here, you will also find a 'Chocolate world' section, which honestly is just a place to buy regular chocolate at a premium. The café does serve decent dishes though when you are out shopping in town. This place is often quite busy and much more popular with tourists than it is with locals.

For pizza go to… Bachmann?!
This last tip is a bit unexpected, but Bachmann also makes tasty pizzas that are for sale at their Italia pizza shop at the station. The shop only has two or three pizza varieties that cost between CHF 20 and CHF 27. That doesn't sound very cheap necessarily, but the pizzas are absolutely huge! They make for a perfect dinner if you are opting for a picnic in a nearby park or in the lake. A pizza from Italia easily feeds two people!
You can also buy pizza by the slice at Italia, if you are not quite as hungry. For larger orders, they make the pizza fresh and give you a buzzer that alerts you when your pizza is ready for pick-up. You find the Italia pizza spot in the basement of the Luzern train station, opposite of the Interdiscount home electronics store. (exit Monopol)
A beloved institution
All in all, Bachmann is hard to miss when you are visiting Luzern. The bakery is a beloved institution for many people in the city and their products are very popular. Pop in for a lunch or breakfast at La vie en Rose on a cold or cloudy day, and definitely don't miss the ice cream by the lake.
On the website of Bachmann, you can find more information about their products and the opening hours of their shops. This bakery certainly won't disappoint you!