It is no secret that, like much else in this country, food in Switzerland is expensive. As a budget traveller, you can choose to skip meals or exclusively buy food in Swiss supermarkets. A more fun option however is the app Too good to go. This app allows you to purchase food from supermarkets, restaurants a café with amazing discounts. So do your wallet (and tummy) a favour and read more about this app prior to your trip!
About Too good to Go
Too good to go is a company with a mission to fight food waste globally. The company was founded in Denmark in 2015 and has rapidly expanded since then. Now, the mobile app is available all over Europe and has even launched in the United States in 2020. The aim of the company is to ultimately fight food waste all over the world.

With the app already being popular in Europe and the US, chances are Too Good to Go is not entirely new for you. What you however might not know is that the app is widely adopted by cafés, restaurants and supermarkets over Switzerland. Even outside large Swiss cities as Basel, Geneva and Zürich, the app has many partners. This can vary from small independent restaurant or coffee shops, to large supermarkets chains such as Manor and Coop. All these partners are trying to reduce their carbon food print by fighting food waste.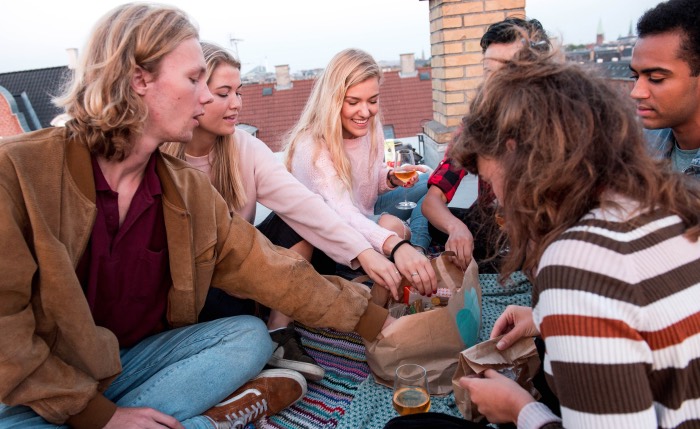 How the app works
The mobile app is available for both Android and iOS devices. When you have downloaded the app, you are asked to log in with help of either Facebook, Apple (iOS devices) or by signing up through email.
The app the will ask you to share your location when using the application. This is important, so that Too Good to go can show you offers in your vicinity when browsing.
Once you have completed these two simple steps, you are all set to start saving meals! To make things easy for yourself, I recommend adding a payment method (credit/debit card for example) in advance, so you don't have to think about this anymore later on.
When looking for meals to save, the app has a list function, but can also show you participating restaurants and supermarkets on a map. Different colours indicate whether or not food is available at a certain partner of Too good to go. In general, food is offered with at least 50% discount on the original retail price, and often much more!
This makes the app truly helpful in exploring everything that Switzerland has to offer, without breaking the bank on restaurant meals. Important to note that Too Good to Go meals are take-away meals, the restaurant won't offer you to eat the meals there.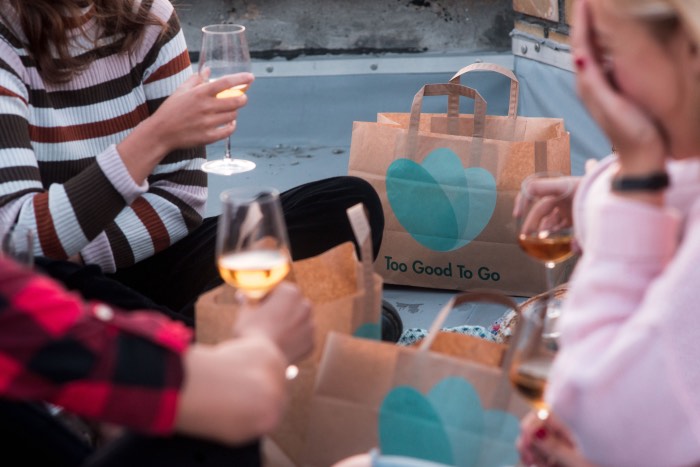 What does the app offer in Switzerland?
The question 'what kind of food can you find in the app' is hard to answer, because the answer is: all kinds! Thanks to the large numbers of partners Too good to Go has in Switzerland, you can chose from loads of different meals to save. As the app is aimed at leftover food, often it is a surprise what you can actually pick up. This means that you can choose the type of restaurant you fancy (save a meal from an Italian restaurant if you are in the mood for pasta or pizza), you can not decided the meal you will get.

This is rather important if you have allergies; the restaurant might not be able to accommodate for your exact dietary needs. Many restaurants do however offer vegetarian or even vegan 'surprise bags'. Apart from full meals, there are also many participating cafés and bakeries offering leftover baked goods for you to save. The app will show you when to pick up the food, often this is just prior to the shop closing.

Once you have selected and paid for your meal in the app, you visit the restaurant or other shop at the shown time slot and mention that you want to pick up your meal. Then they will instruct you what to do in the app and hand you your food. Smooth, without payment necessary at the shop or restaurant anymore! Sometimes you will need to bring your own food container to transport the meal in. Most restaurants where this is necessary mention this clearly in the app. Don't forget to bring your own bag either, fighting plastic waste obviously gives bonus karma!
Are you staying in an apartment in Switzerland and have access to a kitchen? Then it pays to keep your eyes out for surprise bags from supermarket chains Coop or Manor! These bags will often contain ingredients you can use to cook your own saved meal!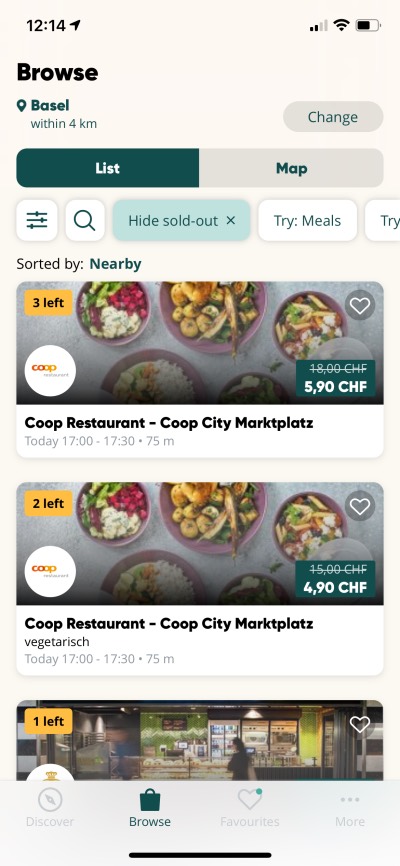 Above you see two examples of the Too Good To Go offerings in major Swiss cities. In Lausanne, you can save a sushi surprise bag, go for Brezels or Italian sandwiches. In Basel, the Coop restaurant has both regular as well as vegetarian meals available to save. The prices are extremely budget friendly, especially for Swiss standards, with a meal starting under CHF 5!
So, are you in Switzerland (or any other participating country!) and want to explore the food scene by fighting food waste and saving money? Download the Too Good To Go App now and get ready for delicious food without emptying your wallet!