The days are getting shorter, darker and noticeably colder, which can only mean one thing: the holiday season is about to begin! Switzerland truly loves it's December traditions and it won't be long until most of the Christmas markets and events kick off for this year's holidays. Are you curious what Christmas markets can be discovered in Lucerne this year? Then you have come to the right place!
Christmas markets in Switzerland
While Switzerland hosts a variety of unique and beautiful Christmas markets, one in general can say that Swiss Christmas markets are all about tradition. Small shops sell the most popular winter drinks (Glühwein, Kafi Luz), while other vendors load their little stalls with handmade merchandise such as Christmas decorations, knitted clothing, Christmas candy and much more. Of course, the smell of roasted chestnuts is never too far away, while locals take the opportunity to come together over a cheese fondue or around a bonfire. Lucerne, in central Switzerland, has several Christmas markets and you can find the most noteworthy ones in the overview below.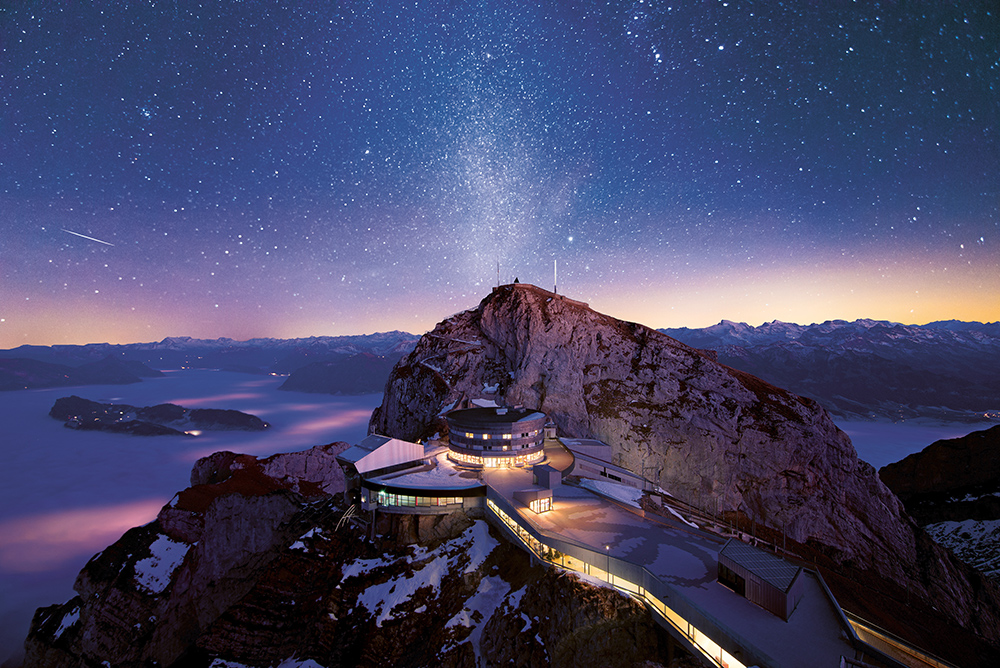 Pilatus Christkindlimärt
Pilatus Kulm – November 17 – 19 2023
The first Christmas market in the Lucerne region must be one of the earliest out there. You can visit Europe's highest Christmas market on the top of Pilatus at an altitude of over 2100 meters on November 17, 18 and 19. Over 40 stalls will be placed on the big panorama deck overlooking Lucerne and the Vierwaldstättersee. Some of the vendors can be found in the indoor spaces of the Pilatus Kulm centre. Visiting the Pilatus Christkindlimärt is also worth it with children, as there are various activities for the small ones!

Want to visit? You can make your way up Pilatus with both the cogwheel train (that has its last day of operation for the year on November 19 2023!) or the cable cars from Kriens. For the Christmas market on top of Pilatus, special transport tickets are for sale. A return ticket costs CHF 62.40 (or CHF 35.10 with a GA, Half fare card or Swiss Travel Pass) and can be booked online. For all information about the Pilatus Christkindlimärt, visit the Pilatus website.

Rudolfs Weihnachtsmarkt
Inseliquai Lucerne – November 17 – December 23 2023
Rudolfs Weihnacht in the Inselipark in central Lucerne is one of the most popular Christmas events in the city. Starting already mid-November, this Christmas market meets food festival can be visited daily until December 23 this year. During weekdays, Rudolfs Weihnacht can be visited from 17.00 until 23.00. In the weekend, the market opens already at 11.30. However, this is a Christmas market best enjoyed once the sun has set. Cozy decoration, lights and plenty of firepits to warm up to, Rudolfs is the perfect place to spend a lovely evening.
Rudolfs Weihnacht has many stands where vendors sell all kinds of merchandise, but most visitors come for the drinks and the food. Many well-known restaurants from Lucerne open a stand to sell street food during the event. For those in the mood for something more traditional, there is a big fondue chalet serving cheese fondue and flammkuchen. Interested in a table in the fondue chalet? Make a reservation timely, as the restaurant fills up quickly.

While Switzerland is still a 'cash is king'-country, Rudolfs Weihnacht exclusively accepted digital payments (card and Twint) last year. This is good to keep in mind when visiting the event in Lucerne.
Want to get a better idea of the Rudolfs Weihnachtsmarkt? Have a look at this article we wrote on the yearly event in 2022 and have a look at the Rudolfs Weihnacht website.
Lozärner Wiehnachtsmärt
Franziskanerplatz Lucerne – December 1 – December 21 2023
Without a doubt just as popular as Rudolfs Weihnacht is the Lozärner Wiehnachtsmärt. With the beautiful buildings of old town as the backdrop, this Christmas market is definitely more traditional. Live music, traditional vendors selling artisanal products, you can not miss this market! As Lucerne is such a small city, is can of course be easily combined with Rudolfs Weihnachtsmarkt, or other activities in town. The Lozärner Wiehnachtsmärt starts a bit later, with the market opening its doors on December 1st for the first time this year.

You won't leave the Lozärner Wiehnachtsmärt hungry, as there are many food stands around to grab a bite. We found the food for sale at Rudolfs a bit more interesting. However, there are definitely some tasty options at and around Franziskanerplatz! The Christmas market is open daily from 11.00 until 20.00 o'clock. The food and beverage stands close an hour later. Pop by for a punch or glühwein!
This is a more conventional Swiss Christmas market, which, unfortunately, means that digital payment methods might not be common. Try to come with some cash in your wallet, or Swiss residents might try their luck with Twint. If you forgot cash, there is an ATM nearby at the Pfistergasse just before the historical museum (Luzerner Kantonalbank).
For more details on the Lozärner Wiehnachtsmärt, check out their website.
Bonus activities in Lucerne during Christmas season
Apart from the Christmas markets just discussed, there are smaller events going on in Lucerne during the Christmas season. They might coincide with your visit or pique your interest!
Hallen-lujah Christmas Market in Neubad – November 26 2023
Neubad is a cultural center, bar and club in an old swimming pool complex. Every month, the actual swimming hall turns into the venue for a flea market. Here, new and old items are sold and it is always a joy to stroll past the different stands. On November 26 2023, the Neubad complex will host a Christmas market with the focus on unique, handmade gifts. Drop by for the Christmas market, stay for the brunch or drinks!
Fondue Gondola at Pilatus – November 25 2023 – April 21 2024
Not exclusively a Christmas dish, but definitely very popular in November and December: Fondue! From the 25th of November until April 21, every Saturday and Sunday you can enjoy a fondue lunch while onboard the Pilatus gondola. Talking about a unique view while enjoying your cheesy bread! During Christmas and New year, you can book the offer on weekdays too. Up to four people can share a gondola for the fondue lunch. If you book for two our more people, you are guaranteed to have your own gondola on the cable car. Your fondue adventure takes about 45 minutes, but the tickets include a day pass for the Kriens – Fräkmuntegg cable car. This means that you can explore the mountain after stuffing yourself with cheese. Tickets cost CHF 68.00 per person and can not be combined with discounts such as GA/Half fare or the Swiss travel pass. Get your reservation in quickly because the fondue is very popular! More information and booking on the Pilatus website.
Do you have more must-visit Christmas markets in Lucerne to share? Let us know in the comments or by reaching out on Instagram!