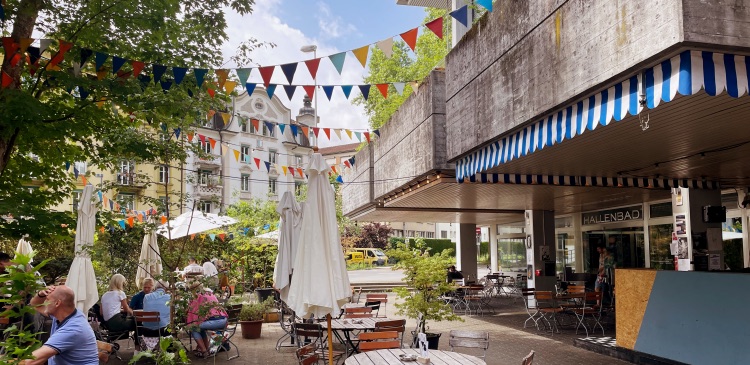 Before moving to Luzern, I have to admit I did not have high expectations from a city with just over 80.000 inhabitants. In a way, it felt like moving back to a city the size of the place I grew up in, in the Netherlands. Surely, no cultural scene could be expected here? Since setting foot in Luzern, the city has consistently proven me wrong. There are plenty of events, nice restaurants and cool bars to discover and I haven't been bored yet. One of our favorite spots to hang out – day or night – is conveniently around the corner from our home: Neubad. Old swimming pool turned cultural hub, bar,restaurant and club, you never get tired of exploring this place.
A venue like no other
Looking at Neubad from the outside, it is hard to imagine the fun things you will find once you set foot inside. The grey concrete is a big concrete with the warm interior of the bar, the summer beer bar on the roof top and the drained full sized swimming pool with a slide still intact. Bizarre? Yes. Amazingly cool? Even more yes!
Ever since we discovered Neubad during our first neighborhood exploratory walks, we have fallen in love with the venue. So much so, that is now a mandatory stop whenever we show friends and family around the city. It is fun to see the surprise on their faces when we take them in. In through the café, past the pool showers and lockers, and finally up the stairs to the huge empty swimming pool. That fun environment – often used for concerts, fairs, and movie nights – alone makes Neubad worth visiting. However, there is so much more!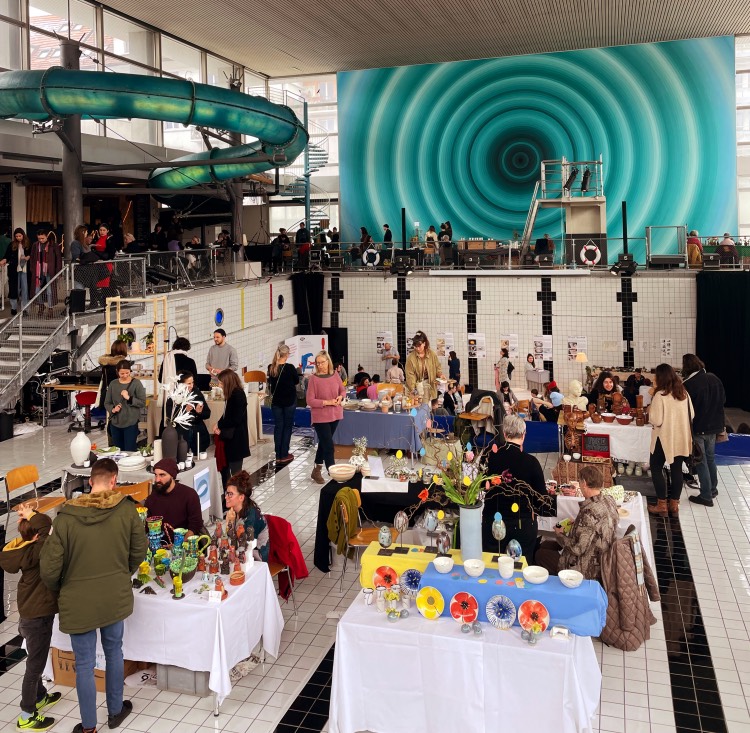 Neubad is an excellent summer spot
The outside terrace of Neubad, with its colorful flags waving in the wind, is the perfect place for drinks on hot summer days and nights. In the summer, an outdoor pizzeria serves pizza on the outside terrace. While I am a big fan of both pizza and Neubad, the pizzas served during our last visit did not convince me. My advice: skip the pizza but definitely stay for the drinks!
All in all, Neubad is simply a very cool place to hang out, be it for breakfast, lunch or a late-night drink. Perhaps the nicest thing about the venue is the wide variety of events that are being organized. Some of these events have a social aspect to make the world a bit better. Every week, a language café takes place in Neubad, where people new to Switzerland can practice their German. This recurring event brings back together new immigrants with locals who volunteer to help out. But this is only one of the things there are to do at Neubad. From club nights to pottery fairs and movie nights: this place has it all.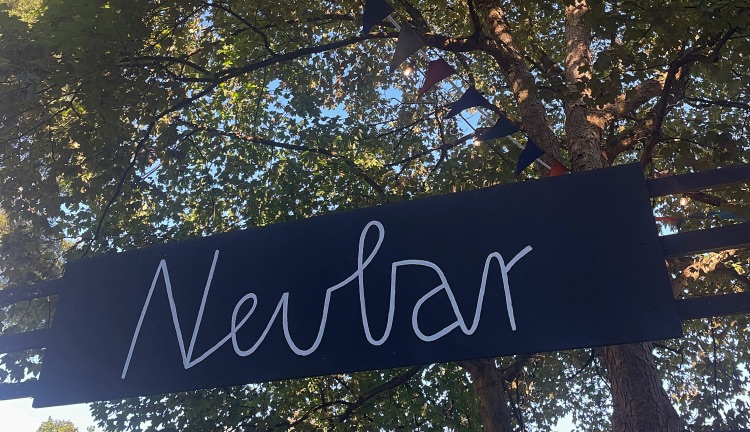 Neubad is located a bit away from the hustle and bustle of the Luzern old town and Neustadt, but is in no way remote. It is a 5-minute walk from the popular Helvetiaplatz in Neustadt. You can also combine a visit to Neubad with visiting great bars such as Parterre or Petrus in the vicinity.
For more information about the venue and the variety of events organized there every week, have a look at the Neubad website. Prepare to fall in love with this fantastic social hub in Luzern!
Neubad Luzern
Bireggstrasse 36,
6003 Luzern
Switzerland
Website of the venue