Floating down the limmat river, visiting the thermal baths or perhaps climbing the Stein ruins? There are many reasons to visit the pittoresque town of Baden in canton Aargau. During our last visit, we were pleasantly surprised by the number of lovely café's, bars and restaurants. After a nice after-swim drink at Triebguet, we sat down for dinner in the popular DORY & DU restaurant.
DORY & DU is beautifully located right by the Limmat river. It's a stone's throw from the nice Limmat promenade and is very close to the FORTYSEVEN spa. Here, you come for an interesting mix of menu items. There are dishes focussing on Swiss ingredients such as mushrooms, deer, and pumpkin, but also many Asian-inspired meals. Much of the menu of DORY & DU is vegetarian, or there is the possibility to make the dish vegetarian.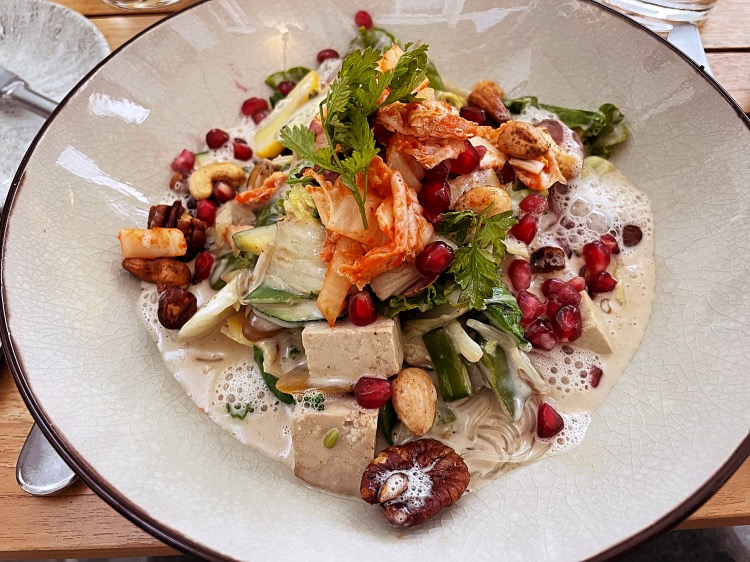 While we visited on a summer day and chose the terrace to eat, we did see that the restaurant's interior is a joy to the eye. Wooden furniture is mixed with incredibly lush plants and industrial accents. This surely is a nice environment to enjoy the dishes.
Asian-inspired dishes at DORY & DU
We all chose Asian-inspired dishes, the Bao Buns, and the tofu glass noodles to be exact. The Bao buns especially were a hit, with the buns being fluffy and hot and richly filled with pulled pork and pickled cucumber. The glass noodle dish had a nice crunch with the pomegranate and cashew nuts but lacked some heat.
The restaurant has an extensive drink menu with tasty cocktails, beers and specials such as homemade ice tea. Leave some room for dessert too, the restaurant has interesting options such as Chestnut crumble and coconut rice cake on the menu.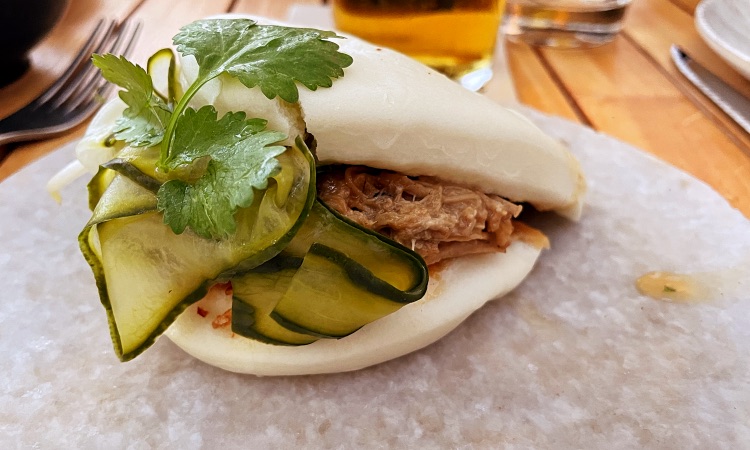 DORY & DU is a popular restaurant in Baden, so I recommend booking a table if you have your eyes set on dinner or lunch here. Prices are reasonable with most of the mains landing between CHF 20 and CHF 30. All in all, this is a nice restaurant to spend the nice after a day of discovering Baden.

DORY & DU Restaurant
Limmatpromenade 27
5400 Baden
Switzerland
Website