Switzerland has two well-known international airports, Zürich and Geneva. Few people know however that even Basel has an airport with daily departures to a large number of destinations. In this article, you can read more about the EuroAirport Basel-Mulhouse-Freiburg airport. You also learn more about its destinations and how to get to and from the airport.
EuroAirport Basel-Mulhouse-Freiburg, a Swiss airport?
While the Basel-Mulhouse-Freiburg airport is located in France, it is also serving the Swiss city of Basel and the German city of Freiburg (in Breisgau). Since 1946, the airport is actually jointly owned by France and Switzerland and operated by both countries as well.
So, while being entirely situated in France, the Basel-Mulhouse-Freiburg airport can definitely be called Swiss as well.
Convenient location
In general, Swiss airports are conveniently located close to large city centres, and the Basel-Mulhouse-Freiburg airport (let's call it Basel airport from here on) is no exception. Despite being located in France, a journey from Basel central station to the Basel-Mulhouse-Freiburg airport only takes 17 minutes with Bus 50. The fare for this airport bus is affordable to, with adult tickets costing 6.10 CHF (as of 2022). You can find the infoflyer with bus timetables here.
The airport serves as a hub to the French city of Mulhouse and German city of Freiburg too. Public transport to and from these cities is therefore available as well.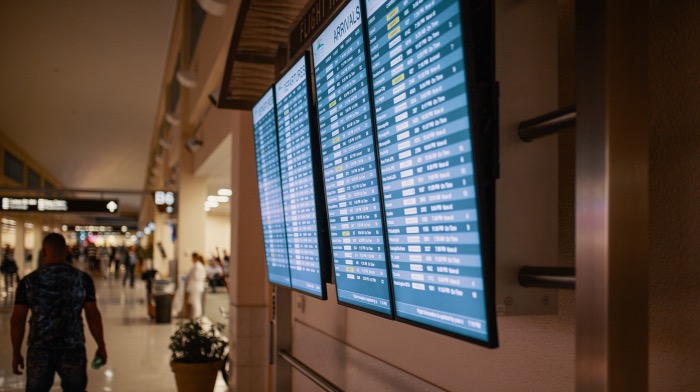 Primarily a European budget hub
While the Swiss airports of Zürich and Geneva offer flights to destinations all over the globe, the airport near Basel can be consider to be primarily a European hub. The European budget airlines of Easyjet and Wizzair have a strong presence on the airline. This makes EuroAirport Basel-Mulhouse-Freiburg the place in Switzerland to get good deals on airfares. However, major airlines such as Lufthansa, British Airlines and KLM also regularly traffic this airport.
If you want to compare ticket prices flying into the Basel-Mulhouse Freiburg airport, you can use the airport code (BSL)
Travel between Basel Airport and rest of Switzerland
As mentioned above, the airport has a good bus connection with the city of Basel. Basel in its turn is a well connected city. It is easy to take the train to Basel from basically anywhere in Switzerland. However, tickets can get pricy if not purchased in advance. You can check train schedules on the official Swiss railways website SBB.ch