In western Europe, many countries are well connected by international train routes. This makes it possible to visit neighbouring countries together, without having to take flights. We already wrote about the newly night train between Amsterdam and Zürich. However, Switzerland is connected with The Netherlands in more ways! You can travel between Amsterdam and Basel daily without changing even once!
Every morning, just after 08.00, a train leaves from Amsterdam heading for the northern Swiss city of Basel. Before leaving The Netherlands, it makes additional stops on the central station of Utrecht and Arnhem Centraal. After that, the train travels through Germany with stopping in several German cities such as Düsseldorf Hbf, Frankfurt Airport, Karlsruhe Hbf and Freiburg Hbf. In Switzerland, it stops in Basel Bad before reaching the end destination of Basel SBB.
A surprisingly quick way of travelling between Basel and Amsterdam
While this might seem like a long journey, you'd be surprised on how quick and convenient this route is! With the train leaving Amsterdam at 08.08 and arriving in Basel at a quarter to three in the afternoon, the journey only takes little over 6.5 hours.

Sounds long? Keep in mind that this train takes you from downtown Amsterdam to downtown Basel, without the hassle of travel to airports, security controls and waiting until you can board the plane. Even when flying to the nearby airport of Basel-Mulhouse, you won't save much time catching a flight over this train route.
With other words, early birds taking this train at 08.00 in the morning do catch the worm!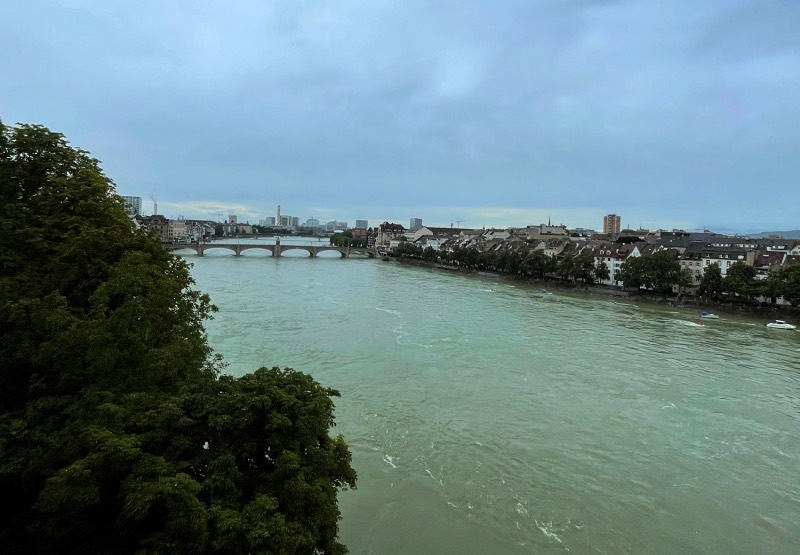 Travelling from Basel to Amsterdam
If you are instead aim to travel from Switzerland to The Netherlands, you can sleep in! The train doesn't leave Basel until after 15.00 (3 PM). After leaving Basel SBB at 15.13, it stops at the same stations on its way as mentioned above. The train arrives in Amsterdam Central station at 21.59.
For those paying attention, this means the route from Basel to Amsterdam clocks in at 6 hours and 45 minutes total travel time.
Trains operated by the German Deutsche Bahn
The train route is most often operated by the German Deutsche Bahn, sometimes in collaboration with the Dutch Railways.
The two times that I personally took the train route between Basel and Amsterdam, we unfortunately had to switch trains halfway in Germany unexpectedly. However, these itinerary changes were quick, well-communicated and smooth. Important tip is to book a seat reservation for your trip! Especially in Germany, the train can fill up quite a bit. As seats can also be reserved for part of the route, you might be asked to leave your seat if you don't reserve it.
This however can be avoided by simply booking a seat for your journey for just a few euros extra.
The best part: incredibly affordable
The best part about this train route between Amsterdam and Swiss Basel? The journey is incredibly affordable! Especially when booked in advance, it is possible to find 2nd class train tickets for under 40 euro (41 CHF). Make sure to add that seat reservation to avoid standing (part of) the journey!
My experience has taught me to book tickets for this route on Bahn.de (German railways), rather than the Swiss or Dutch railways. Bahn.de has a reliable booking website and seems to offer the best rates. For lowest prices, try to book your trip at least one month in advance!

For more information and booking, have a look at Bahn.de!