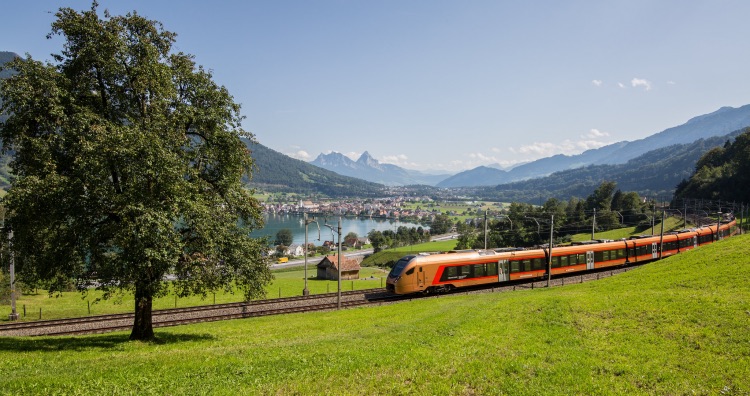 Ticino is the southern part of Switzerland bordering northern Italy. In this canton, with its Mediterranean climate, the population speaks mostly Italian. From Swiss cities in the north of the country, Ticino is easily reachable with the train through the Gottard tunnel, But, without the half-fare card, tickets can come at a price. If you don't manage to get a Supersaver ticket, a one-way ticket from Zürich to Lugano costs CHF 65.
Ticino is one of my favorite weekend getaway destinations in Switzerland. Enjoying the beautiful Lake Lugano or Lake Maggiore, admiring the palm trees, and drinking wine, all just 2 hours from our hometown of Luzern!
Deal: Ticino for only CHF 40 with Treno Gottardo
Now, the Swiss train company Südostbahn has a deal where you can buy tickets for the Treno Gottardo routes between Basel and Locarno (Train IR26) or between Zürich and Locarno (Train IR46) with great discounts. Even for travelers without the popular half-fare card, it is possible to buy return tickets for only CHF 40. Quite a discount, considering return tickets normally cost up to CHF 130!
There is one catch, and that is that your trip takes slightly longer than the fastest travel option. Rather than taking the Gottard tunnel, these trains go through the valleys called the 'Gottard Panoramastrecke'. This route takes you from Zürich to Locarno in about 3 hours and 20 minutes. While this is an hour longer than the fastest option, the route has amazing mountain views to enjoy during your trip.
Even more discount and how to buy tickets
Discounted tickets can only be ordered on the website of the Südostbahn. You will have to log in or create an account to purchase tickets. At the time of purchase, you already need to decide your travel dates. There is only a limited number of tickets available for each month.
As mentioned, this deal allows you to buy regular return tickets for set dates for CHF 40 between Zürich or Basel and Locarno. If you have a Swiss half-fare card, you only pay CHF 20! Interesting to note that the tickets are valid on all stations along the route, so you can choose to get on or get off the train wherever you want. For example, the IR26 between Basel and Locarno stops in Luzern, which would make this deal also interesting for anyone wanting to travel from Luzern instead.
In addition to the discounted tickets, you also get a voucher for a hot drink onboard the train. Tickets can be booked for dates until the 31st of December 2022. As there is limited availability, don't wait too long with booking your tickets!
You can find all information about this great deal on the Südostbahn campaign website. The website is only available in German and Italian. When planning your trip to Ticino, don't forget to have a look at our tips! There is so much to do in Locarno, Bellinzona, and Lugano!