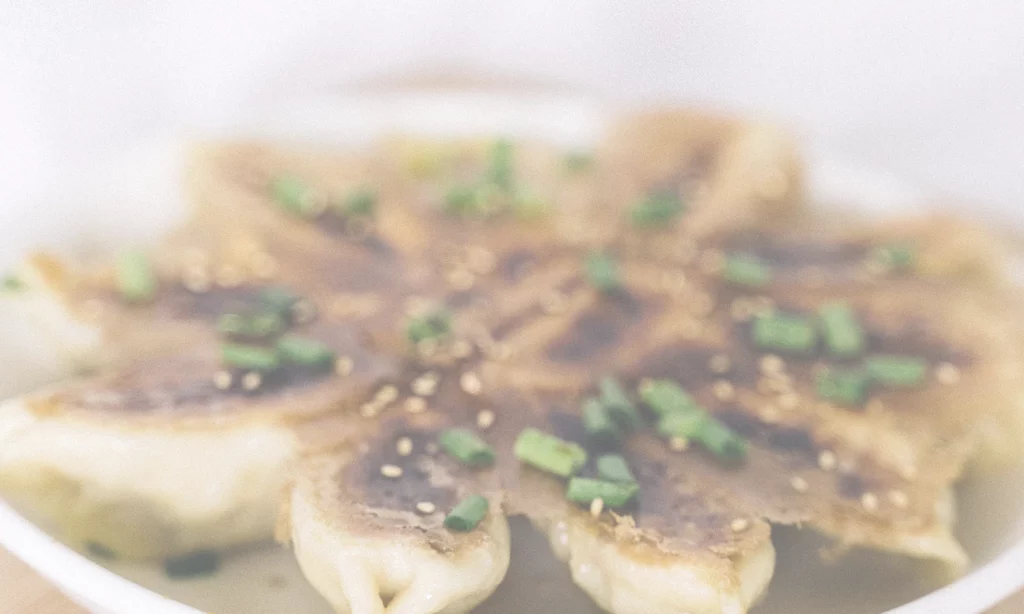 Sherly's Kitchen is a cooking school just outside of central Zürich that specialises in English speaking Asian cooking classes. We attended a 'dumpling for beginners' course in May 2023 and found the course to be super interactive, fun and educative!
If there is anything you should know about me, it is that I absolutely love food. Particularly the East Asian cuisine has a special place in my heart. When I left my old employer in Stockholm, they gave me a voucher for a Swiss cooking class as a goodbye gift. This voucher was for a cooking school called 'Sherly's kitchen', in the Wollishofen area in Zürich. While browsing through their course offering, the dumpling course especially caught my eye. Who doesn't dream of being able to make mouth-watering dumplings at home themselves?
Sherly's kitchen
We were welcomed into the class by Sherly herself. Sherly originally comes from South-Korea, but has been living in Switzerland many years. Apart from the dumpling course that we decided to join, there are plenty of other courses such as a ramen, kimchi and bibimbap class. Her cooking school consists of a dining area (where you get to devour your dumplings in the end!) and a kitchen big enough to fit a group of eager students.
What I particularly liked about Sherly's way of teaching the class, is how direct she was. Sure, in the beginning she felt a bit like a strict teacher, but it ensured you used the right technique to mix materials and ultimately make the best dumplings (or at least we tried). She told you when you did something wrong, but also praised you when you were doing the right thing. Very refreshing!
Several dishes
The course started with a quick introduction of the dishes we'd be making. We started with making the dough for the dumpling wrappers, and then proceeded with the dumpling filling (one meat version and a vegetarian alternative). As an appetizer, we made a so-called 'egg drop soup', which had an interesting texture and was surprisingly easy to make.
Our cooking course had 9 participants, and Sherly made sure that everyone had a task and was interactive. This was really nice, as it really felt you were making the dishes together with people you did not know before.
After we ate the soup as an appetizer, it was time for the real work: dumpling making! Sherly first had a short and interesting explanation about dumplings across the world throughout history. Then, it was time to turn the dumpling dough into thin wrappers to make delicious dumplings with.
During this part of the course, we were shown four different dumpling-folding techniques. They were so fun to try out and to get familiar with!
Steaming, frying, eating!
Once the group had turned the dumpling wrappers into meat-filled and vegetarian dumplings, it was time for the second to last step. Sherly taught us how to prepare dumplings in two different ways: steaming and frying. Both give a different texture and taste to the dumplings but were equally easy. We went from uncooked dumplings to a steaming plate of topped with delicious dumplings within 10 minutes.
Now to the best part of the evening: eating our homemade dumplings! Sherly's kitchen has a big dining area in the front of the venue where we got to taste and rate our dumplings. The dumplings were served with a side of smashed cucumber salad (delicious). We were quite proud of the results, I liked the fried vegetarian dumplings the best!
After dinner and a small dessert, Sherly gave us the opportunity to ask some last questions and invited us to join one of our other cooking courses ones. Especially the ramen course and the bibimbap course look really interesting to me!
The cooking school is easily reachable, as it is only a short walk away from the Wollishofen train station. A train ride to Zürich main station takes less than 10 minutes. Sherly sent out the recipes of what we'd cooked that evening out per email (in English), allowing us to make these masterpiece dumplings at home going forward. This was such a nice extra touch and ensures that you can actually use your newly-acquired skills outside of the class. All in all, the course takes about 3 hours.
Not a budget activity, but worth every penny
Cooking classes at Sherly's kitchen start at about 150 CHF per person and course. That is not a cheap activity, and is not something that everything can fit in their budget. But nonetheless, I wholeheartedly recommend you to try and attend one of the classes when you can. Sherly manages to create a setting that is very laid-back and fun, while you leave the course with skills that you can use in your own kitchen. I can also imagine this being a great venue for a team events for companies!
I, for one, will never resort to ready-made frozen dumplings again, but will make my own batches in the future. And while I think I am quite good in making Bibimbap (my favorite dish of all times), I am confident that Sherly can learn me a trick or two. So I will definitely return to Sherly's kitchen for another cooking class, because it is definitely worth it!

Sherly's Kitchen
Seestrasse 297
8038 Zurich
Switzerland
Website