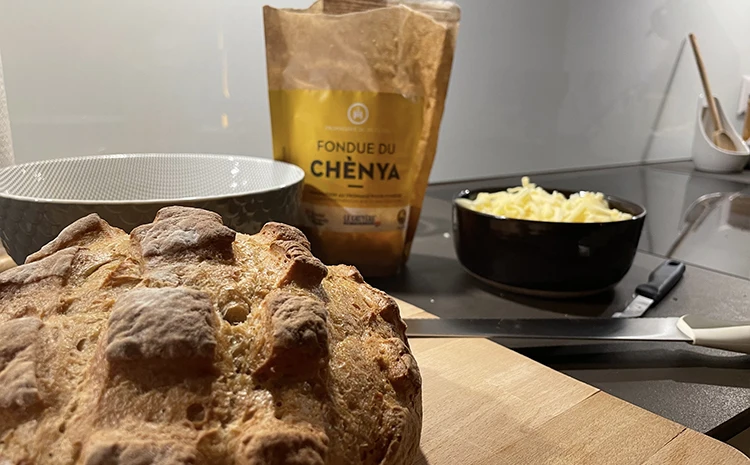 Oh Switzerland, country of mountains, chocolate and cheese of course! Switzerland has many famous cheese varieties that are world renowned, such as Emmentaler and Gruyère. There is one thing that Swiss love to do with their cheese: melt it! My love for raclette will have to wait for a future post, because today we'll talk about Swiss cheese fondue!
Abroad, Swiss cheese fondue is by far the most known fondue variety, but don't be mistaken this being the only fondue activity the Swiss engage in! There are many more fondue options, each involving their own hot liquid and ingredients to dip/cook in it. For those wanting to expand their fondue-horizon, I recommend looking up fondue chinoise, fondue mongole and fondue bressane. But today, we'll talk about cheese fondue!
It started with a recipe from Zürich
The earliest mention of fondue is actually a recipe from 1699, originating in Zürich, Switzerland. In the recipe 'Käss mit Wein zu kochen', the author cooks grated cheese in wine and dips pieces of bread into it. The tradition of fondue was born!
You would not believe it looking at the prices of fondue restaurants today, but fondue started (supposedly) as a dish farmers could eat during winter months, when fresh produce was scarce. Since then, fondue has gained in popularity and now is proudly known as one of the Swiss national dishes.
Moitié-Moitié – the fondue to try
Visit any Swiss fondue restaurant today and they will have an extensive menu with all different kind of fondue mixes. Variety is great for the experienced fondue-dipper, but can be overwhelming for those just starting out with the cheese dish. My recommendation for beginners is: go with the Moitié-Moitié variety.
Moitié-Moitié literally means half-half and stands for the cheeses in the fondue mix: half Vacherin Fribourgeois and half Gruyère cheese. It is by far the most popular fondue variety in Switzerland and incredibly tasty! Most restaurants will have their own 'house mix' with these two cheeses on the menu.
Speaking of restaurants – eating out in Switzerland is expensive and often overpriced. This especially applies to eating fondue in a restaurant. Whereas eating a fondue at home can be very affordable, eating the dish in a restaurant definitely is not, with most restaurants charging up to CHF 40 per person for 300 gram cheese and bread. Consider it a unique opportunity when visiting Switzerland
Buying fondue in the Supermarket
As I already mentioned, the Swiss love putting their national dish on the table as well. Especially in the colder winter months, the supermarkets are stocked with plenty of varieties of fondue. For those having a vegan diet, there is even a vegan fondue available in Switzerland now!

If you are visiting Switzerland and want to take some fondue with you home – there are several varieties that do not need cooling. Popular brands of this ready-made fondue (fixfertig or pret à l'emploi) are Gerber and Appenzell Fondue. In addition to these sometimes not needing any cooling, the packages contain everything you need. There is no need to add your own wine or other ingredients.

However, personally we rarely serve these types of fondues. More common are the fondue kits where you buy a mix of different grated cheeses, and then construct your own fondue at home.

An absolute favorite that is available all across the country is the moitié-moitié from 'Caquelon Noir' at Migros, or the Emmi Kaltenbach available at Coop. Both are mixes with the Gruyere and Vacherin and taste delicious!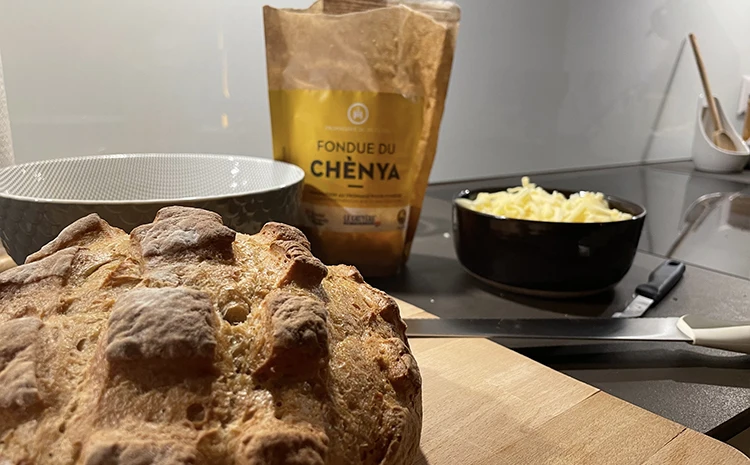 The right tools for a fondue at home
First of all – if you are going to eat fondue at home, you need a Caquelon and burner. It is important that your caquelon (or fondue) pan is suitable with your stove, as the cheese mix needs heating on a stove prior to serving it on the table. As many are not compatible with the induction stoves found in many modern apartment, we went ahead and bought an induction adapter to use in combination with our caquelon.

Fondue sets in many different stores. In large cities, stores such as Manor or Globus will have decent collection on fondue sets for sale for a reasonable price. For cheese fondue, you do not need the electric fondues, but instead the ones with the burner.

IMPORTANT – If you plan on taking the fondue back home from your holiday in Switzerland, do not bring the burner paste in the plane with you! This is a highly flammable product and you are not allowed to bring it onboard an aircraft.
Making my favorite Swiss cheese fondue
The instructions on making a fondue below are strictly personal and are not necessary the 'traditional Swiss way'. Don't forget, I am a Dutch guy living in Switzerland writing this blog! While I do get some nice pointers from my Swiss family in law, I do make plenty of mistakes in trying to do things the 'Swiss way'.
Personally, I am not extremely adventurous when it comes to choosing cheeses for the fondue; I often stick with a moitié-moitié mix. As mentioned before, we do enjoy the Migros 'Caquelon noir' mix, but any moitié-moitié with good cheeses will do.

I start with peeling a clove of garlic and cutting it in half. I then rub the clove with the open half on the bottom of the caquelon, ensuring the garlic juice is spread evenly. Leave the clove of garlic in the caquelon. Now, put your caquelon on the stove and turn it to low heat. Next up it getting some nice white wine (can be substituted with water) and mix it with some cornstarch (Maizena in Switzerland). I usually do around 200 ml wine with 1.5 table spoon of cornstarch. Do not worry about the quantity too much, you can adjust it later on if needed.
Stirring, stirring and more stirring
Now, while you bring the caquelon and its content to a medium heat, add the first cheese. I usually start with a small amount of cheese, and then work my way up as it slowly melts. Keep stirring continuously! Once you have added all the cheese and it has melted, check the consistency of your fondue. Too thin? Let it simmer for a bit, while continue the stirring. Too thick? Gently pour some more white wine or water to the mix, while again keeping the fondue in motion. Do not add any maizena directly to the hot mix, it will not dissolve nicely.

Once your fondue has the perfect consistency, let it bubble on the stove for a few minutes. I like to add some black pepper to mine already in the pan. However, this is up to your personal taste.
Speaking of tasting
A bubbling pot full of cheese might be hard to resist, but beware! Do not double dip your bread or spoon in the fondue mix when it's still cooking. The enzymes of your saliva can break the cheese and ruin a perfect fondue. You have been warned!

I do however recommend tasting your cheese fondue before putting it on the table, as it is hard to adjust the taste after taking it off the stove.
Once it is time to eat, put the caquelon on the table and use the fondue forks to dip a piece of bread in the hot cheese. Some people swear by making 8-figure movement for 'optimal mixing' of the fondue.
You can put some black pepper on your plate to dip the cheese-covered bread in before devouring the hot bite.
The bread
Cheese fondue is typically served with bread, and in some Swiss regions also with small potatoes. We usually use white bread that is cut into cubes. Some Swiss buy their bread a day before eating the fondue, so the bread can dry out a bit.
Speaking of the bread, do not lose it in the fondue! Traditionally, you have to perform a task once the rest of your table finds out you lost your piece of bread. Is it running around the house naked, or doing the dishes? That is up for your household to decide!
To egg, or not to egg?
In some families, it is custom that you crack an egg into the fondue once you only have a bit of cheese left. Let this egg simmer for a bit while mixing it with the cheese, and the fondue gets a slightly different taste and consistency. Not all Swiss are a fan of this approach, so proceed with caution!

Once all the cheese disappeared from the caquelon, you will often find a hard crust on the bottom of the pan. Don't stop now; this crust is incredibly taste once you have succeeded forking it out of the pan! In French, this part of the fondue is called 'the nun' or la religieuse.
Swiss cheese fondue – a true classic
I hope that the article above taught you a thing or two about Swiss cheese fondue. What is your favorite way of making fondue, and your cheese of choice? Let me know and I can learn even more about this magical dish!