For months, you have been planning your trip to Luzern. You can hardly contain your excitement when looking at pictures of the city with crystal blue water and the sun shining onto the medieval old town. But then, your arrival date creeps closer and the weather forecast is merciless: rain?! In this post, you will read that not all is lost, and that there are plenty of things to do in Luzern on a rainy day.
Despite what those tourist photos might tell you; Luzern certainly doesn't always have nice weather. Even more so, in French-speaking Switzerland the city is sometimes called 'le pot de chambre de Suisse': The bedroom pot of Switzerland because of the bad weather. While we haven't experienced much of this since moving to Luzern earlier in 2022, bad weather certainly does happen. It does not have to ruin your visit to this city though!
Getting around town when the weather is bad
While Luzern is a very walkable city, going for strolls might not be that enticing when it is pouring weather outside. Luckily, there is a reliable public transport network, with trains and buses taking you to wherever you need to be. A day pass for unlimited travel in zone 10 (entire Luzern city center) costs CHF 8.20, with additional discounts for those traveling with a half-fare card. You can purchase tickets through the SBB app, and can also use this app to access timetables and route planning.
If you are staying in a Luzern hotel. you will be handed the Luzern visitor card. With this card, you can use the Luzern public transport for free during your stay!
Verkehrshaus – the Swiss museum of Transport
The first suggestion for a rainy day is also by far the most obvious. The Swiss Museum of Transport, or Verkehrshaus, is one of the most popular museums in the entire country. Here, you can discover the history and current developments in Swiss transport, logistics, and mobility. It is an interactive museum that is sure to entertain young and old. In addition to the Swiss museum of Transport, the Verkehrshaus area also houses the Swiss chocolate adventure, a 3D cinema, and a planetarium. Daredevils can get their kick of adrenaline in the VR experience by Red Bull.
The Swiss Museum of transport is a great indoor activity in Luzern that will entertain families for hours. It is conveniently located with a bus trip from Luzern train station to Verkehrshaus only taking a few minutes.
More information on Verkehrshaus can be found here.
The Lion monument – melancholy on a rainy day in Luzern
The lion monument, or Löwendenkmal, is one of the most well-known sights in Luzern. The rock sculpture commemorates the Swiss guards that were killed while defending the French king during the French Revolution. The sculpture and surrounding small park is beautiful, but also a bit gloomy. While this is an outdoor activity, I do recommend visiting the lion monument even on a rainy day. There are busses stopping nearby and a rainy, melancholic day makes the message of the lion monument even stronger.
After visiting the löwendenkmal, warm up with a coffee or lunch at the cozy Alpineum bar next door!
You can find more information about the Lion monument here.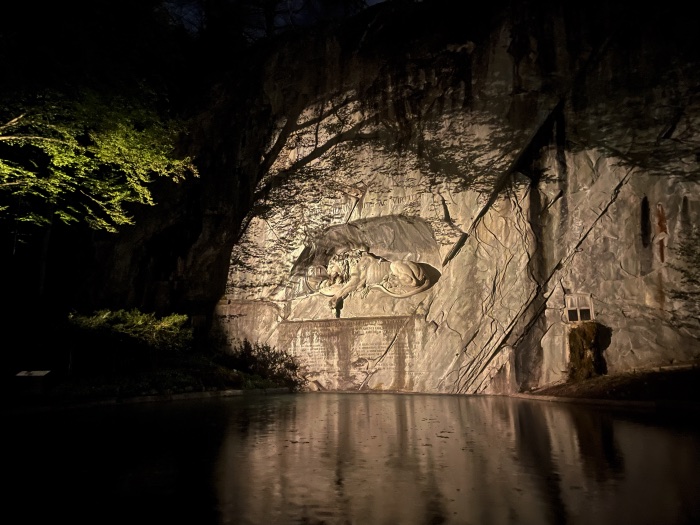 Lunch or sweets at Bachmann
Exploring a new city always makes one hungry! For lunch or a sweet break, have a look at Bachmann, the most popular bakery in Luzern. With cafés in several locations in the city, here you can have a salad, sandwich, or a sweet pastry.
Not all of their locations have seating arrangements, but their food is amazing. The popular La Vie en Rose café on Pilatusstrasse is run by Bachmann. Also, go to Bachmann in the summer months for amazing gelato!
Find all Bachmann locations on their website
Jesuit church
If you are walking through the city of Luzern, the Jesuit church right by the Reuss river can be a nice shelter from the rain. This catholic church was the first baroque church in Switzerland and is even today still a very impressive building. The church is open for visitors 7 days a week from 6.30 AM until 6.30 PM.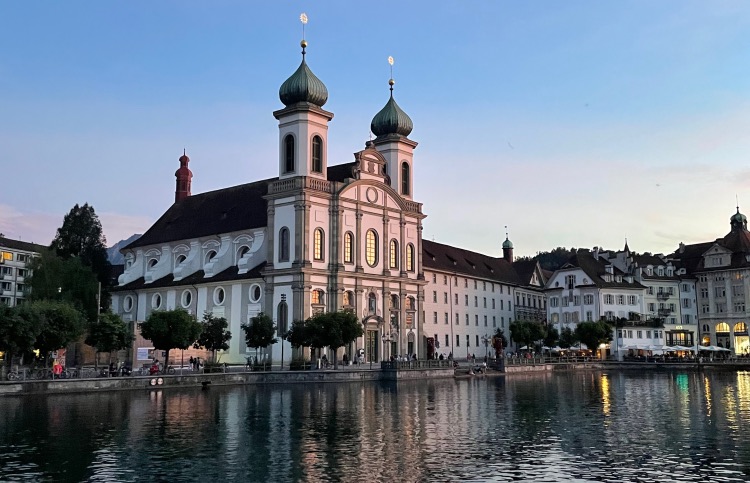 Gameorama Luzern
Lover of arcades and video games? Gameorama is an interactive game museum in the city center of Luzern. In this museum, perfect for rainy days, there is a lot on display. From antique games to arcade games and from old video games to bar games such as darts and table soccer. Especially game nerds will love Gameorama and time will fly by here. There is a board game café as well and a great museum shop to expand your game collection.
A visit to Gameorama takes about 2 hours and can be perfectly combined with other Luzern activities. Check out their website here
Glacier garden
Right by the earlier mentioned lion monument, is the glacier garden or Gletschergarten. This museum teaches visitors more about the rocks and sediment of Switzerland. Part of the museum shows giant potholes that were created by thick layers of ice covering Switzerland during the ice age. Awe at light projections in the carved tunnels, get disoriented in the mirror palace, and learn about what's below our feet in the museum building. There is an alpine garden to explore too, but most of the museum is indoor. Perfect for an excursion on a rainy day!
Find out more about Gletschergarten
Eat some fondue or raclette!
Gloomy days in Switzerland call for hearty meals! Regardless of the season, there are several restaurants in town that will serve both Swiss fondue and raclette. These dishes with delicious Swiss cheese will sure to warm you up on a rainy day in Luzern.
One popular restaurant in Luzern for both raclette and fondue is Pfistern, in the heart of the old town. Another favorite in House du Pont, next door to Pfistern. While fondue in a restaurant is not cheap, it is an experience that matches well with rainy and cold weather.
Tip: The Luzern museum pass for CHF 36
Planning to visit a lot of museums during your stay in Luzern? The Luzern museum pass might be something for you! For CHF 36, you get access to nine popular museums in Luzern for two consecutive days. The pass gives you free entry to Verkerhshaus, Glacier Garten and several more museums in the city of Luzern. You can buy the card online here.
What do you do on a rainy day in Luzern?
There you have it, our tips for a rainy day in Luzern. Have you explored any of the places above already? Maybe you have entirely different ideas for a rainy day in this city. Let us know what you do in Luzern when the weather is not cooperating!
You can find all our tips on visiting Luzern here.