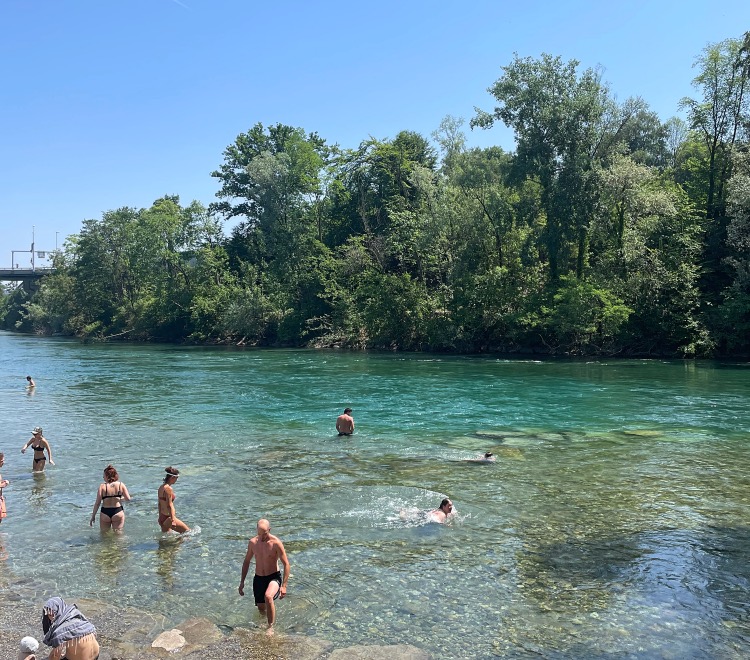 The slogan of the marketing agency of Luzern is: "The city, the Lake, the Mountains". A tagline that gives you high expectations of summer swimming opportunities. Luckily, Luzern lives up to those expectations with plenty of cool and unique swimming spots throughout the city. One of the more entertaining ways to cool off is by taking a swim in the Reuss. This river that flows through the Vierwaldstättersee and through the inner city of Luzern, allows you to float downstream with the current. River floating happens to be one of the most popular summer pastimes of many Swiss residents and Luzern is no exception. Bar Nordpol, north of the city, is used by many to get out of the water after their float.
Safety first when swimming in the Reuss at Bar Nordpol
The current here is quite strong (or the water shallow in times of low water. This means using this spot is at your own risk! For those simply wanting a dip in the water, the outdoor bar and surrounding park offer a nice place to spend a hot summer day.
Bar Nordpol is an outdoor café between the inner city of Luzern and the suburb of Emmenbrücke. The spot is easily reachable from Luzern either by bike, foot or by taking a bus and getting off at the nearby bus stop called Reussbühl, Schiff. Bar Nordpol is located in a little park with children playground, plenty of grass to relax on and a small pebble beach.
At this point in the Reuss, the river has quite a strong current, making it very fun to get in the water. The power of the river will really surprise you! Small children and those who are not confident swimmers should stay close to the waterside. Safety first! Do not go too deep and always act responsibly. Also, do not go river floating when intoxicated or when you are not an experienced swimmer.
At Bar Nordpol, you can spend the whole day sunbathing and cooling down in the water. Once hungry or thirsty, you can their menu of snacks and drinks. The bar offers ice cream, paninis, and fries, along with a wide range of refreshing drinks.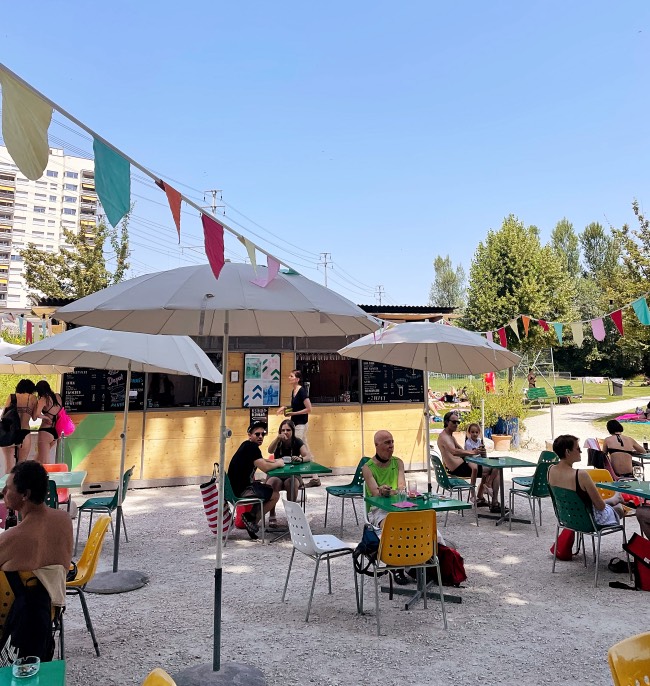 A Luzern swimming spot for locals
Spending a summer day at Nordpol by the water is definitely doing as the locals do. Nordpol is much less crowded than Ufschötti in the city center and a great place to enjoy the Swiss waters.
The Bar Nordpol is open in the summer months and needless to say, you best visit this spot on a hot and sunny day. Bring your tool and sunscreen!
Bar Nordpol bathing spot
Reusszopf, Luzern
Exact location: 47.06533229937461, 8.284822711330886
Website of Bar Nordpol