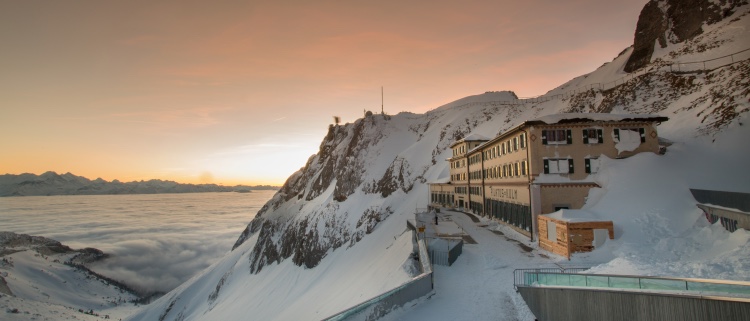 The stereotypical image of Switzerland shows green meadows and cows in the summer, and picturesque snowed-in villages in the winter. Mountainous areas of the country indeed do get their fair share of snow during the winter. It is important to remember that the large cities in Switzerland rarely get more than the occasional snowy day. Are you visiting Luzern and want to absolutely see some snow? Then there are some options that we will outline below.
Luzern – your hub in central Switzerland
If you are visiting Luzern during a clear day in the winter, you will be presented with a snowy mountain panorama. Luzern is located in central Switzerland, meaning the mountains are never far away. Luzern itself however is situated at an altitude of 400 meters and rarely gets snow, even during winter. But don't despair, below we will outline some day trips from Luzern where you can have a snowy adventure!
Pilatus – the dragon mountain of Luzern
When looking for a snowy destination close to Luzern during the winter, the obvious choice is the Pilatus. Mount Pilatus is located on the outskirts of Luzern and traveling here is very easy. With its 2100 meters, it will have snow most of the winter season (between November and April). While the funicular from Alpnachstad up the mountain is not running during the winter months, the cable cars from Kriens are!
From the top of Pilatus, you will have great views over many mountain tops and Vierwaldstättersee (lake lucern). The outside area on top of Pilatus is rather limited, so there might not be much snow to frolic around in.
Make sure you visit Pilatus on a clear day and have a look at the mountain webcam to see the (snow) conditions at the summit. In terms of travel effort from Luzern, Pilatus is your easiest choice to experience snow during your winter visit.
For times, tickets and webcams, check out the Pilatus website.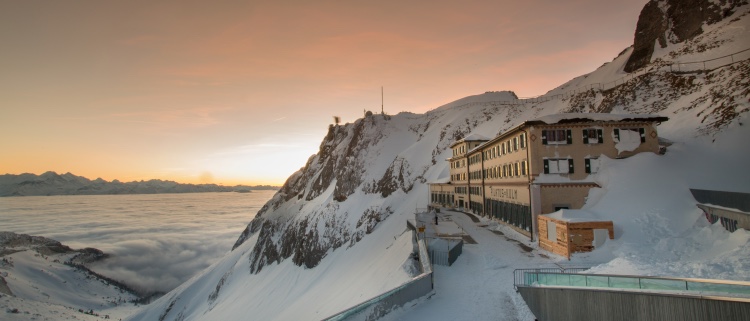 Rigi – Queen of the mountains
Another option for snowy winter adventures is Mount Rigi, also dubbed Queen of the mountains. Mount rigi is located on the border of canton Schwyz and canton Luzern, and there are several ways to make your way up there. There are cogwheel railways from both Vitznau and Golddau and a large cable car from Weggis on the Vierwaldstättersee. You can reach Weggis from Luzern by bus and train, but you can also take a cruise! From Weggis, the cable car takes you to Rigi Kaltbad in just a few minutes. From there, you can take the cogwheel train further up to Rigi Kulm.
Rigi is not quite as high as Pilatus, with the mountain standing 1798 meters tall. Snow chances might thus be a bit lower than for Pilatus. But if there is snow, Rigi will be a much more enjoyable visit. There is plenty of space for walking and playing with the snow; if conditions allow, you can even do winter sports!
Another big benefit of Rigi is that all transportation is part of the public transport network. This means that if you have a card that gives you unlimited travel (such as Swisspass or GA), you can visit Mount Rigi free of charge.
For times, tickets and webcams, check out the Rigi website.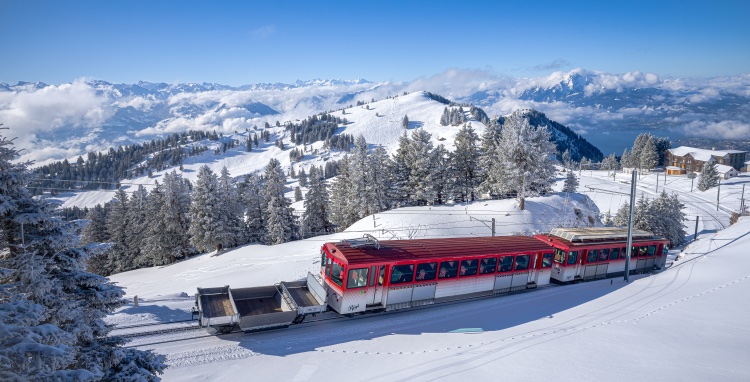 Engelberg Titlis – Year-round snow (for now)
Another popular destination to see winter conditions is Titlis, a mountain in the cantons Obwalden and Bern. This mountain is significantly taller than the two mentioned earlier with 3238 metres above sea level. Thanks to this, Titlis even has a glacier that allows for summer skiing.

In the winter, the area around Titlis and Engelberg is a very popular winter sports destination. You reach Engelberg with train from Luzern in about 45 minutes. From there, there are several cable cars that bring visitors to the various mountains within the ski resort.
Snow chances are significantly higher than for Rigi and Pilatus, but going up the Titlis mountain does not come cheap. Make sure to choose a day that is worth it!
Titlis does have many extra activities to enjoy at the summit, such as the Glacier walk and the Glacier cave. They also organize winter activities such as skiing and snow tubing for visitors without experience!
For times, tickets and webcams, check out the Titlis Engelberg website.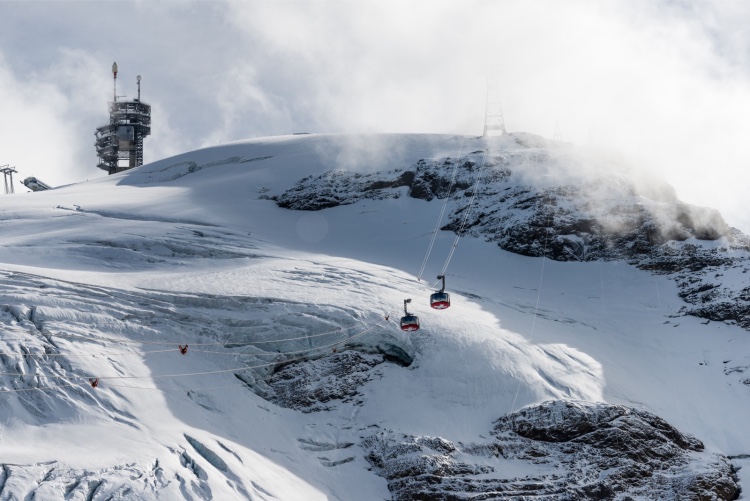 Check out webcams before you visit
There you have it, three destinations that are suitable for day trips from Luzern. In the winter, at least one of these destinations will allow you to enjoy a snowy wonderland. The most important tip mentioned above is worth repeating: before embarking on your trip, have a look at the webcams of the mountain. It would be a pity to plan a trip, only to not have any snow or no views!
What is your favorite snow destination in central Switzerland?