Year after year, Zürich ranks high in the list of the worlds most expensive cities. Visitors aiming to visit this city in the north of Switzerland might be worried about finding affordable accommodation for their stay. However, staying at a hotel in Zürich doesn't necessarily need to break the bank. The city has plenty of high-standard hotels that are surprisingly affordable. During our most recent visit to the city, we stayed at a lovely hotel without going bankrupt. Let us introduce you to Hotel Josef, just a stones throw from Zürich Hauptbahnhof.
Situated on the Josefstrasse, the hotel is aptly named after its location. The Josefstrasse stretches long into the hip Gewerbeschule neighbourhood. Here you also some of our favourite hotspots such as Urban Surf Zürich, Frau Gerolds Garten and many more nice bars, cafés and restaurants. The outside from this boutique hotel looks very stylish, with its soft green color, awnings and wooden window shutters. While hotel Josef is very close to the central station, the street is not heavily trafficked. Some of the rooms overlook the station and its track, but with the windows closed, the rooms are very silent.
Check in and other services
Before booking a stay at Hotel Josef in Zürich, it is good to know that this is a so-called self-service hotel.This means that there is no lobby in the traditional sense. The ground floor of the hotel is a charming café with a self-checkin machine prominently placed on the bar. Here, you can with help of the touch screen check in yourself without any staff assisting you.
At the time of our stay, the café was closed for the summer. However, the hotel provided clear instructions on how to enter the premises and how to work with the machine. We had no problem checking in, but wondered who would have helped us in case of problems. The café is called Il Baretto and is also the place where you can enjoy breakfast in the morning.
The hotel does not have onsite dining, but does recommend some nice restaurants in Zürich on their website. With its central location, you won't have any trouble finding a restaurant to your liking though.
If you want to store you luggage after checking out from the hotel, there is a luggage room available. However, the luggage room is not guarded, and keeping belongings there is on your own risk.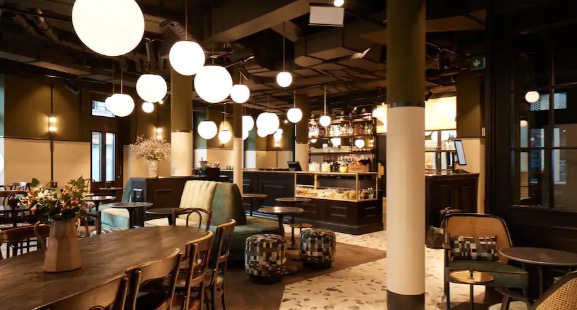 Rooms at hotel Josef in Zürich
The rooms of the hotel are accessible with the stairs and an elevator. While not overly big, we were pleasantly surprised by how spacious these central rooms were. There was plenty of space to open your suitcase and still move around in the room. The rooms have comfortable beds and already mentioned above, are very silent despite the central location of this hotel. This makes hotel Josef a nice option when visiting Zürich with a jam packed schedule!
The rooms have a big tv with plenty of channels to help you wind down after a long day of exploring Zürich. The bathrooms are relatively spacious and modern bathing products available. Our room had a nice tiled walk-in shower.
The rooms are also equipped with an Nespresso machine with free cups. Hotels that offer this truly have a special place in my heart, as it makes starting your day so much easier!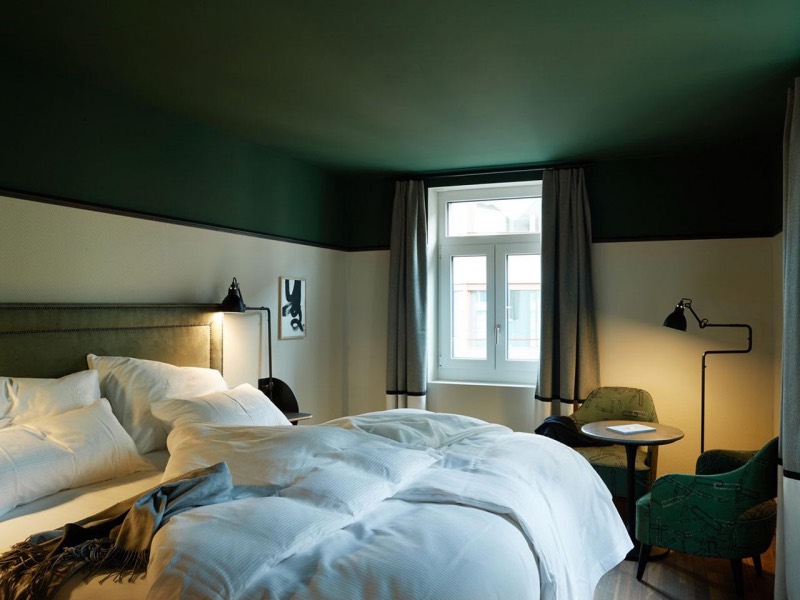 How to get there and neighbourhood
Hotel Josef is just a short 5 min walk from the Zürich Hauptbahnhof central station. The Sihlquai/HB light rail stop is only a 2 minute walk from the hotel.
There are plenty of breakfast options in the vicinity of the hotel, if you decide to not opt for a breakfast at Il Baretto. There is a Coop supermarket in front of the hotel and an ALDI budget supermarket around the corner. From the hotel, it takes approximately 30 minutes to Lake Zürich, but you can get there by light rail within 10 minutes.
All in all, Hotel Josef in Zürich gives a lot of bang for the buck, especially if you don't mind doing without some of the regular hotel perks. Don't mind checking in yourself and do you usually skip hotel breakfast and hotel dining? Then this hotel will definitely do the trick for you and Josef can be your comfortable home base during your Zürich trip.

Prices for the rooms typically start at CHF 120 per night, although you might be able to find even cheaper deals when booking timely. You can find more information and book your rooms here.
Important – This article is about Hotel Josef in Zürich. There is also a hotel in Zürich called St. Josef. This hotel is in an entirely different location and has no affiliation with the hotel on the Josefstrasse. Keep this in mind when searching for the hotel or navigating to it!