While beer gardens originally come from the Bavaria region in Germany, the popular concept has spread globally nowadays. One of the most popular Beer Gardens in Switzerland can be found in Zürich. Frau Gerolds Garten has been welcoming visitors since 2012.
About Frau Gerolds Garten
Frau Gerolds Garten is only a 15 minutes walk from the Zürich Central Station and is located right next to the SBB Hardbrücke train station. The venue is best describes as a city garden with plenty of different bars, food stands and seating areas. The fact that shipping containers are used for much of the decorations and facilitates, makes that this place has an interesting industrial vibe. Combine that with wooden structures, colourful lights and loads and loads of plants and you can imagine the unique vibe this venue offers.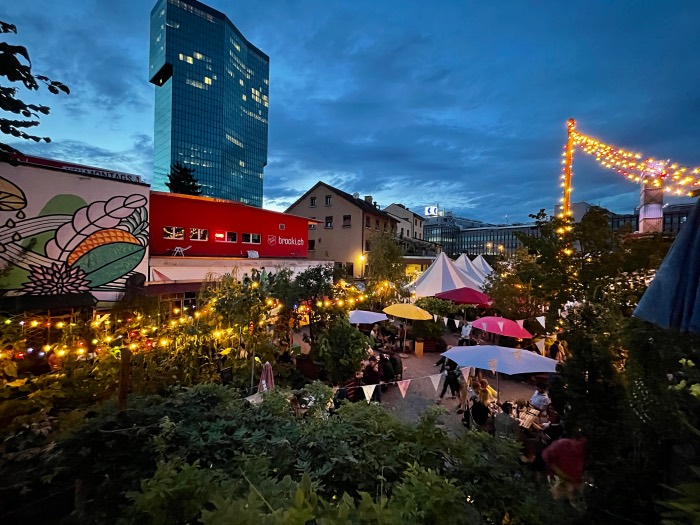 The entire area around the Hardbrücke station is well worth a visit! Here you find Frau Gerolds, the Freitag concept store and Urban Surf being just around the corner from each other. It provides a welcome contrast to the fancy and somewhat stiff architecture and vibe in the more central parts of Zürich.
Not only a summer destination!
Frau Gerolds Garten is the place to be during sunny spring evenings and hot summer nights. But don't scratch the venue of your list if you are visiting Zürich during the colder months! Between October and March, Frau Gerolds turns into a true 'Winter garden', with winter decoration, many lights and Glühwein. There is also an indoor restaurant called Winter Stübli where they serve the ultimate Swiss winter dish: Cheese fondue!
Keep in mind that Zürich is one of the worlds most expensive cities. While beer gardens might have a budget aura around them, Frau Gerolds Garten is not necessarily a cheap option. Both drinks and lunch or dinner prices are on par with the rest of the city. That being said, this outside bar offers a laidback atmosphere in a unique area! This beer garden is a must-visit for everyone that likes hanging out among locals in a relaxed setting.
Practical information
The opening hours of Frau Gerolds (winter) Garten vary throughout the seasons. With the Winter Garten starting on the 8th of October 2021, the venue is open on Monday to Friday from 5 PM until midnight. On Saturday Frau Gerolds is open from midday until midnight, on Sundays they close at 10 PM.

If you are coming to Frau Gerolds Winter Garten to eat, the kitchen is open until 10 PM on all days except Sunday, when the kitchen closes one hour earlier. While the venue is primarily outdoors, the winter garden has seating areas that are protected from the rain or snow. Bring your warm jacket though!
You currently do not need a Covid-19 certificate for entering Frau Gerolds Winter Garten. A certificate is however required for visiting the Winterstübli.
[su_box title="Practical information" style="noise" box_color="#9dc07f" title_color="#ffffff" radius="5″]- Frau Gerolds Garten is a 15 minute walk from Zürich SBB or just around the corner from the Hardbrücke station
Address
Geroldstrasse 23
8005 Zürich
Switzerland
For more information on openings hours and more, visit the website[/su_box]