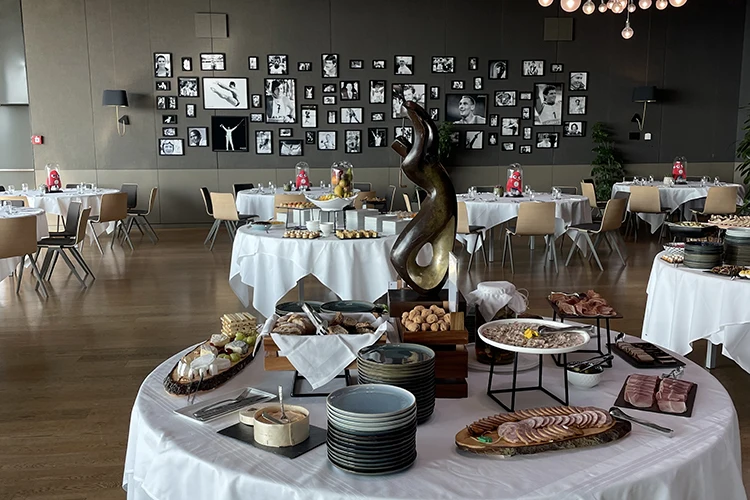 First things first – I live for brunch. There are few things in life that make my heart jump a beat like a food buffet does. While our brunch game has been weak since moving to Switzerland, the brunch at the TOM Café (The Olympic Museum Café) in Lausanne has reignited the brunch flame. Before being alarmed by the high price of the brunch, hear me out and let me explain why I think it is worth it.
Why I love brunch
When living in Stockholm, brunch always was a great opportunity to brought a group of friends together. Over the years, we knew exactly which places were worth a visit, and which ones fell into the category 'Once but never again'. Of course, all the while slowly expanding our collection of beloved brunch places in town. Stockholm has a booming brunch culture, and while our home town Luzern does not, I have found my new brunch love: Lausanne!
When doing research for our weekend trip to the city on Lac Léman (lake Geneva), it became apparent that the Lausanners love to brunch. Almost every café or restaurant has a dedicated and extensive brunch menu and it seems that you have to book a spot well in advance.
The Olympic Café in Lausanne
According to friends of ours, TOM Café has a long-standing reputation for being a good brunch spot. Their buffet brunch was known throughout Lausanne, until the pandemic struck. For hygienic reasons, the buffet was abandoned and instead table service was introduced. Reading reviews online, this concept was not too popular, making it all the better that the brunch buffet is back!
The TOM Café can be found on the top floor of the Olympic Museum, by the lakeside in Lausanne. The museum itself and the surrounding park are a great place to visit when in Lausanne, with especially the park being a hotspot during a nice and sunny day.
Once you have made it to the top floor of the Olympic Museum, you quickly understand why the café is so popular. On clear days, the floor-to-ceiling windows of the café offer a breathtaking view over the lake and the mountains behind it. The lake was a bit foggy when we visited, but despite this, it was hard to keep my eyes off the view during our entire brunch.
The brunch doesn't come cheap
This is a topic that needs to be discussed – the brunch at the Olympic museum is not cheap. It costs CHF 68 per person and includes one hot drink free of charge (coffee, tea, cappuccino). This is – even in pricy Switzerland – not a budget brunch. It is also significantly more expensive than I would ever consider paying for brunch in Sweden. I was a bit hesitant of the brunch prior to the visit, but The Olympic Café in Lausanne was able to change my opinion. If you can afford it – you absolutely should visit this brunch.
The brunch room
We had a reservation at 11 in the morning on a sunny Saturday in February. Being punctual, most of the tables were still empty and there was no brunch buffet in sight. However, once we sat down, the sliding walls in the café gave way to one of the most elaborate and stylish buffets that I have seen in my life. I could write five paragraphs summing up all of the dishes that were on offer – but that would be too much. Rest assured, there will be plenty of choices to your liking at the brunch buffet of TOM Café.
While there were a lot of meat specialities, there were many vegetarian choices both in the cold section and warm buffet at TOM Café.
Every single dish at the buffet was prepared with much care, and the variation in the dishes was amazing. A heartwarming thing to see: the chefs that made the dishes walked around the brunch room in the beginning – taking pictures themselves of their amazing creations. Talk about taking pride in your work!
Some favorites from brunch at TOM Café
During our brunch, the café served some esquisite tuna sashimi and cured salmon, which I both loved. There was a wide variety of cheeses to choose from, and also local cold meat cuts that were tasty and beautifully presented.
The hot buffet had an ~amazing ~boeuf bourguignon stew, as well as very tender beef steak and and veal. There was also a salad buffet with every ingredient you could hope for. Of course, brunch classics like scrambled eggs, bacon and pancakes were also on the menu!
After what felt like fifteen trips to the buffet for "Just a bit more of the hot buffet" and "I think I haven't tried this cheese yet?!", it was time for the desert tables. Needless to say, TOM Café did not disappoint in this field either. Their chocolate mousse was the best I have tasted in a long time, and so were their little pastries. They even had an IKEA-like dish that you had to assemble yourself: a beautiful pear desert.
The chefs had placed their creation under a bell jar, and it was up to your to use the various ingredients to recreate the desert for yourself. Very fun and tasty!
Don't count on drop-in spots
While the café was relatively empty when we arrived, the place quickly filled up. Reading online – reserving a table is a must for the brunch on Saturdays and Sundays. You should not expect to be able to get a drop-in seat. Instead, try and reserve at least two weeks in advance. It is best to do so by calling to the café during the museum opening hours. You can reach them on phone number +41 21 621 67 08. As they are used to visitors from all over the world, they can help you in English.
The end score for brunch at TOM Café in Lausanne
Going into this brunch restaurant, I was skeptical because of the rather steep price per person for their weekend brunch. But as you can read in the review above, I completely changed my mind on the brunch at TOM Café. Yes, the brunch is not cheap, and this is probably not sometime you will do every week. But if you want to splurge on an amazing brunch during your visit to Lausanne, do it here. I can not a single dish from the brunch that wasn't tasty.

Whenever we will visit Lausanne again, I will not skip a meal at my new favorite brunch spot!

The brunch at TOM café is on every Saturday and Sunday. You can find more information on brunch at TOM Café on their website.