Are you visiting Bern and looking for a laidback independent café or bar that is great for both summer days and colder parts of the year? Then you should definitely visit Turnhalle. This old gymnastics hall, only five minutes from the Bern train station, has quickly become one of our favorite coffee spots in town.
Tropical and sunny courtyard at Turnhalle
We first visited the Turnhalle in Bern on a warm summer day. The city was full with shoppers and tourists and we wanted a calm place to have a cup of coffee. Just a few streets from Bern Hauptbahnhof, the Turnhalle café and bar has a great courtyard – complete with palm trees – where you can enjoy a cup of coffee, beer, or whatever you are in the mood for.
Even if you rather sit inside (for example when the temperatures drop during autumn or winter), Turnhalle is a great spot. The café has a retro look with amazingly high ceilings, making the place bright even on moody days. Downstairs, in the actual old gymnastic hall, you can still find a basket hoop and gymnastic wall bars (though for decoration only). The café has plenty of seating with tables and chairs, and the downstairs area also has comfortable leather sofas.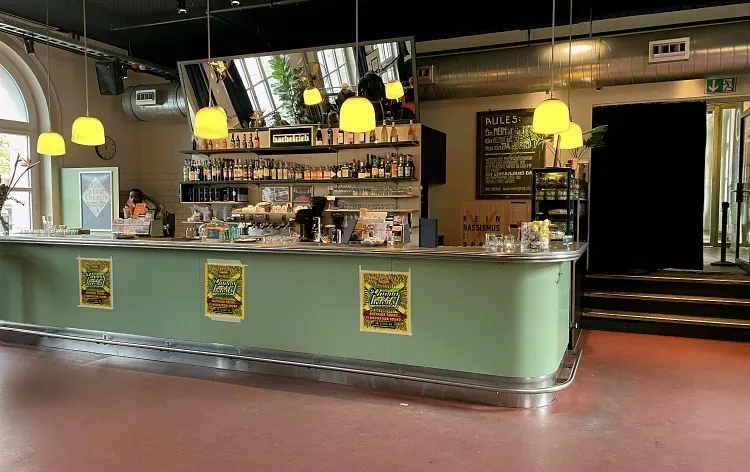 Breakfast with coffee, or something stronger?
So far, we have only visited Turnhalle for breakfast and coffee breaks, but the Turnhall bar seems fully equipped with beer, wine and liquor. From Monday to Saturday they also have a soup of the day that can be ordered during lunch hours. The café posts their weekly soup menu on its Instagram account.
Lively concert and event venue
Turnhalle is a café by day, but the former gymnastics hall turns into a popular concert and club venue at night. The gymnastic hall is then turned into a dance floor. There is a big stage at the far end of the venue. You find the concert and club calendar of Turnhalle on their own website.
All in all, Turnhalle Bern seems to be a popular place to spend time for mostly locals of the Swiss city. Are you looking for a nice place to have a coffee or drink while in town, then I definitely recommend you to pop in! Or maybe their club program has anything of your liking?

Turnhalle Bern
Speichergasse 4
3011 Bern
Switzerland
Website