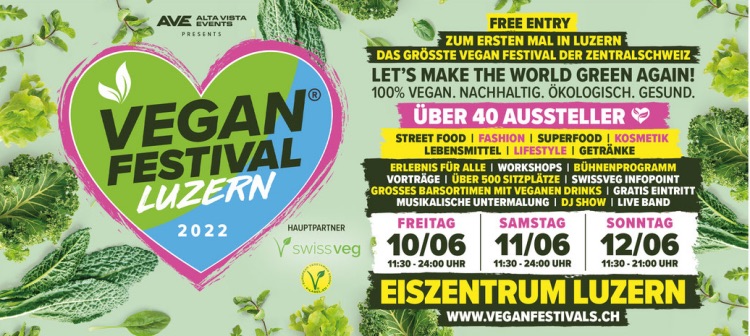 Plant-based diets are increasingly popular all around the world. While the traditional Swiss cuisine is very heavy on meat and dairy, Switzerland also has an increasing number of inhabitants that consider themself vegan. Swiss supermarkets have plenty of options, with especially meat substitutes being very popular.
Vegan Festival Switzerland celebrates vegan culture
To celebrate this increase in popularity for a greener future, the Vegan Festival was founded. This festival was first organized in Zürich in 2020. In 2021, it turned into a festival travelling through Switzerland, which is exactly what will happen in 2022 too!

The Vegan Festival is more than only food though. It brings together an interesting mix of small and large entrepreneurs that create vegan food, beauty products, lifestyle products, and fashion. This makes the vegan festival an interesting meeting point for like-minded people that want to learn more about culture and inventions without animal products involved.
Luzern, Winterthur and Zürich
This year, the vegan festival is organizing events in Luzern, Winterthur, and in Zürich. The Luzern edition of the festival takes place in the Eiszentrum. This is the same location as where the StreetFood festival took place in April 2022. You can visit the Luzern edition of the festival from June 10 until June 12 2022. It is entirely free to visit the festival.
Next stop is Winterthur, where the festival takes place on the Neumarkt on June 30 until July 3 2022. The final stop of the 2022 edition of the Vegan Festival is Zürich, where it all started. Vegan-minded people can visit the festival in the Central Station from August 30 until September 4 2022. Entrance is free of charge both in Winterthur and Zürich.
Do you want more information about the upcoming Vegan Festival and learn more about the brands that will be represented? You can visit the website of Vegan Festival Switzerland for more information. You can also follow the festival on Instagram.