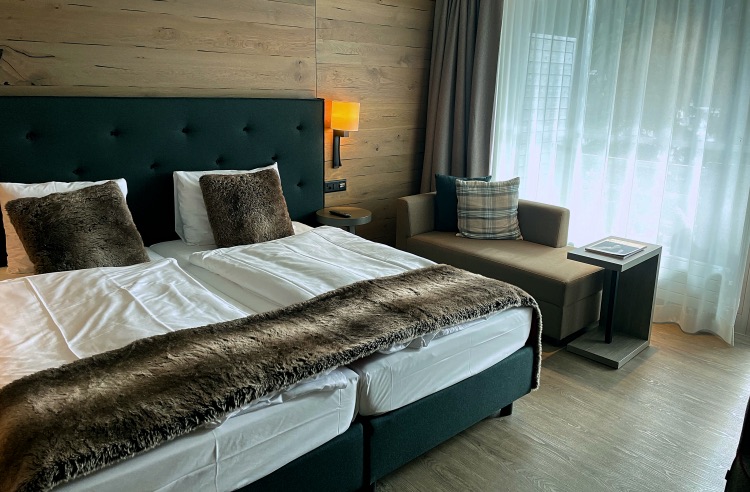 It is our first year of living in Switzerland, and we definitely have the travel bug! Ever since moving to Luzern in March 2022, we have traveled all over the country to discover as many beautiful places as possible. The canton of Graubünden had been on our bucket list for a while. At the end of October, we finally visited this beautiful canton. Our home base during our visit was the cozy and luxurious Ameron Davos Swiss Mountain Resort. Let me take you along on our trip and tell you all about our stay in the hotel!
Not our first stay in Ameron hotel
While Ameron is not a large hotel chain, we did stay at an Ameron hotel before. As a matter of fact, we slept at the Ameron Flora Luzern hotel on the actual day of our move to Switzerland. This way, we knew that the hotel in Davos would be worth a visit.
The welcome by the reception staff was warm and cheerful. Throughout our stay we were constantly greeted by staff that was willing to help, was efficient and came up with suggestions for our trip. All of them were happy to chat about Davos, the upcoming winter period and the hotel. They were so nice!
The Ameron Davos Swiss Mountain Resort hotel feels very cozy. While the outside is modern, the interior of the lobby and the hotel rooms feel like staying in a mountain lodge with warm colors, wood materials, and warm blankets. While it was unusually warm in Switzerland during our late-October stay, the nights did get chilly. Here, the blankets came in to still enjoy a drink on the balcony of our room.
The superior room we stayed in had views of the surrounding mountains and was equipped with a large king bed, a chaisse longue, a little writing desk and coffee-making facilities. The walk-in rainshower was literally all we needed after a long day of hiking.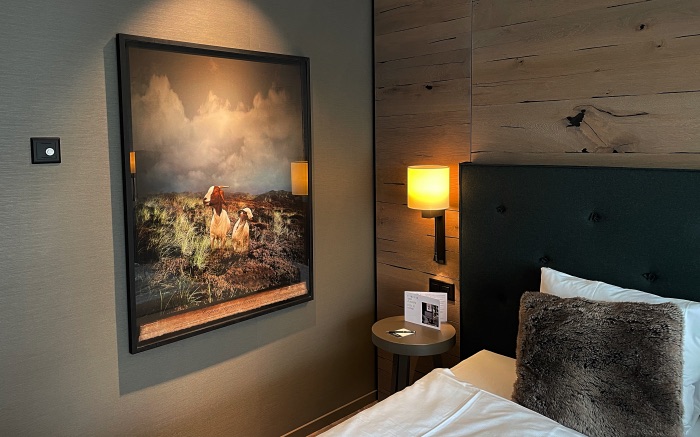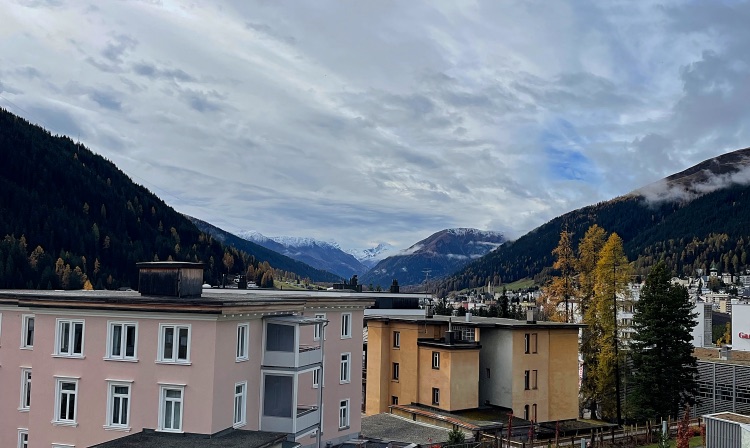 Booking directly with Ameron pays off
One great perk that Ameron offers during the summer season is a free cable car ride for each night you are staying with them. If you have traveled in Switzerland before, you know that cable car trips can get quite pricy. Staying at Ameron is a way to save these costs while still enjoying the mountains. It is important to note that this is only offered for direct bookings with Ameron and only during the summer season. As this is subject to change, best to check the hotel website for current conditions.
While the summer season was running on its last legs during our visit, the above-mentioned perk allowed us to visit both Madrisa mountain and the wonderful Rinerhorn. Especially the hike down from Rinerhorn to Sertig Dörfli (approx 2 hours) really was a highlight of our Davos trip.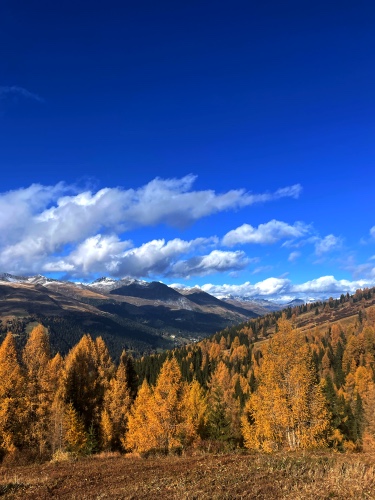 Breakfast buffet to die for
My favorite part of staying in a hotel is always the breakfast. How often do you get the opportunity to have loads of different breakfast items, ready for you to pick from a buffet? At Ameron Davos, the breakfast buffet definitely did not disappoint. The breakfast is served in the Italian-themed 'Bacio Del Mamma' restaurant and consists of virtually every breakfast item you can think of. From meat cuts and cheese to scrambled eggs and from fresh fruit to yoghurt and cereals.
The buffet was spread out over quite a large area in the restaurant, meaning it never felt cramped or busy while going through the food selection. On top of that, there was delicious coffee, fruit juices and even some breakfast items for those that are gluten-intolerant. All in all, the breakfast at Ameron was the perfect start for a day out in nature!
Pool and wellness area
Few things are more kind to sore hiking muscles than a sauna or pool, and this hotel definitely hits the spot. Ameron Davos has a fairly big indoor pool with massage jets and lounge beds to relax on. The water is about 28 degrees, so not too warm and not too cold. If you want to warm up, the wellness area has an entire sauna room with two Finnish saunas, foot baths, a steam room and 'immersive showers'. The hot tub, placed on the small adjacent garden, was unfortunately out of order during our stay.
While we in total maybe only spent 2 hours in the wellness area during our stay, it made the experience so much nicer. The thought of a sauna waiting for you at the end of the day makes climbing those few extra meters on the mountain much easier!
In addition to the pool and the wellness area, you also find a well-equipped fitness room in the basement of the hotel.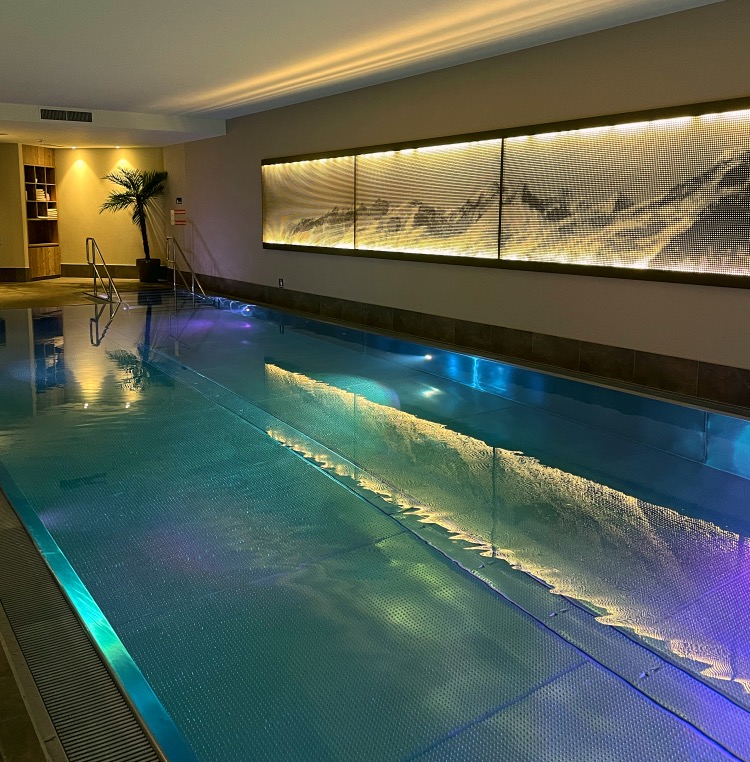 Restaurants and bar on-site at Ameron Davos
The Ameron hotel in Davos is situated between Davos Dorf and Davos Platz. Several restaurants and bars are a short walk or bus ride away, making the location perfect. However, if you don't want to leave the hotel in the evening, that is possible too. The hotel has two restaurants and a bar on its premises. One restaurant is Italian, the other one offers Swiss cuisine. The bar right by the reception offers an extensive range of drinks to thirsty guests.
If you are looking for a restaurant to visit during your stay in Davos, we enjoyed both Bistro Angelo and Sõko Ramen a lot!
Can not wait to return for the winter season
As mentioned earlier already, we visited Davos and Ameron at the end of the summer season. However, it was easy to see how cozy winters are at this hotel. With the views of the mountains and the rustic 'mountain lodge' style interior, I can not wait to spend some days skiing at this hotel. The busses to the ski lifts stop in front of the hotel. The basement also has a large room for storing your equipment.
Ameron Davos, we will be back for sure!
Ameron Davos Swiss Mountain Resort
Scalettastrasse 22
7270 Davos
Switzerland
Website