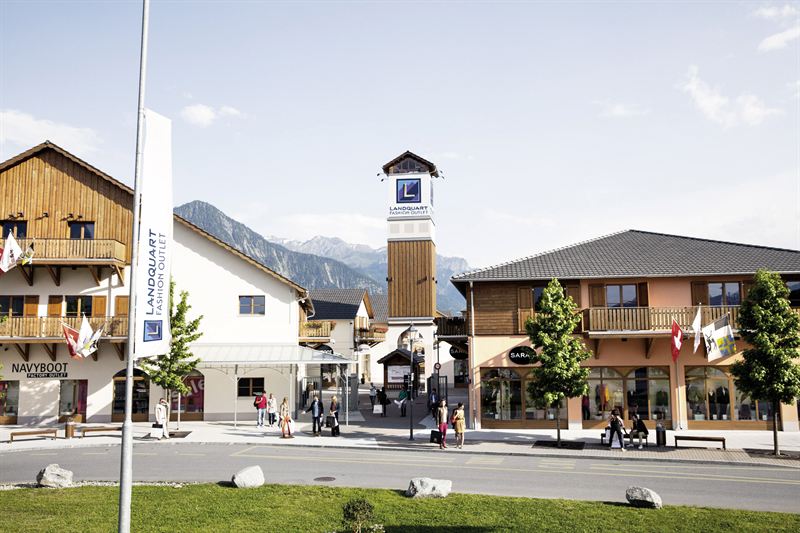 Unless you are the type that casually buys a Rolex or other high-fashion luxury items, chances are you are not visiting Switzerland for shopping. To my knowledge, the country is not known as an amazing shopping destination. Sure, Swiss cities do have downtown streets lined with all kind of stores and shopping malls. But getting great deals while being in Switzerland during your holiday; don't count on it.
However, is the Swiss shopping destination Landquart Fashion Outlet an exception to this rule?
Landquart Outlet Mall is an outdoor shopping center located in the town of Landquart, Switzerland. The mall features a variety of stores offering discounted prices on clothing, shoes, accessories, and household items from many international brands. Some of the brands that have stores at the mall include Nike, Rossignol, Tommy Hilfiger, and Calvin Klein. Famous Swiss brands such as Lindt, Mammut and Kuhn Rikon have also set up shop in the outdoor outlet mall.
If you haven't heard of Landquart before today, don't be too hard on yourself. The city of Landquart only has 4500 inhabitants, small even for Swiss standards. Landquart is primarily known as the station to transfer when on your way to or from the Graubünden region. It was in exactly that setting that we passed Landquart and decided to give the Landquart Fashion Outlet a try.
A shopping walhalla – for those that like shopping
As we live in Luzern in central Switzerland, there is no way that I would travel two hours to Landquart just to visit the outlet center. However, in October we made a weekend trip to the mountain village of Davos, and Landquart was on our way.
First things first – I am no longer a very enthusiastic shopping. Blame it me passing 30 years or the pandemic, spending days in busy shopping centres simply no longer entices me. However, I do appreciate a good discount, especially living in a country that is notoriously expensive. So maybe Landquart shopping outlet is a perfect mix that I would like, right?
We visited Landquart Fashion Outlet on a Monday morning in October. A very moody, rainy Monday morning I must add. Choosing this day to visit the mall had both positive and negative implications. Luckily, there was no sign of the ecxtatic, crazy crowds I generally associate with any sort of outlet shopping mall! But the unfortunate part of visiting an outdoor shopping mall on a drizzly melancholic day is exactly 'outdoor' part of the destination. While the mountains surrounding the shopping centre (the area around Landquart and its mountains are majestic!) were turning white, Landquart itself just got very, very wet.
We had to run from shop to shop to avoid getting soaked. Tip number 1 is – visit Landquart Fashion Outlet when the weather is somewhat enjoyable – not when it is raining cats and dogs
The offering of shops
As the name indicates – Landquart is primarily focussed on clothing – and mostly on the higher end of the brands. No H&M or Zara here, but Armani, BOSS and Karl Lagerfeld. All not brands that are high on my personal wish list, but premium activewear brands are also well represented in Landquart. Think of outdoor and wintersport clothes from Norrøna, Oakley, Salomon and New Balance – you can get them here at a discount.
In total, the outlet has almost 100 stores full of deals. Besides clothes, there is a clear focus on kitchenware at the outlet centre. Known kitchen brands as WMF, Le Creuset and Kuhn Rikon all have shops in Landquart.
Sunday shopping – unique selling point in Switzerland
As I mentioned in this article about shop opening times on Sunday in Switzerland, Sundays are not known as popular shopping days. Apart from train stations and airports, the vast majority of shops even remain closed entirely on Sundays. It is interesting to see that Landquart Fashion Outlet is an exception to this rule, the shopping centre is open seven days a week (except on holidays). So maybe you want to make your way to the mall if your shopping urge plays up on a Sunday morning?
Worth the trip?
Whether Landquart Fashion Outlet is worth the trip, depends entirely on your starting destination. As I mentioned earlier in this post, being based in Luzern, I would never travel 2 hours to shop at Landquart. Do you live a mere 20 minutes away by car, then it is an entirely different story!
I think Landquart is a nice mall to combine with a trip to or from the Swiss canton of Graubünden. The Fashion Outlet is located next to the SBB train station. You can easily do some shopping in between two train connections.
Then onto the brands on display at the Landquart Fashion Outlet. If your wardrobe already is filled with high-end fashion, then Landquart will be a playground for you. The stores we visited had very attractive discounts on clothes in all possible sizes. While I was afraid that the mall would only have clothes in sizes XXS or XXL, I was pleasantly surprised that I was proven wrong.
Do you want to see a complete overview of all stores represented at Landquart Fashion Outlet? Have a look at the website, there you also found the opening times of the centre.

Landquart Fashion Outlet
Tardisstrasse 20a
7302 Landquart
Switzerland
Website