The Swiss railways usually work like clockwork. This makes the train a very reliable way to travel Switzerland. However, this punctuality definitely comes with a price – train tickets for the Swiss SBB railway company don't come cheap. Unless of course, you plan ahead and get your hands on SBB supersaver tickets with great discounts.
The Swiss railways company has a wide range of travel passes that cater for different types of travelers and trip destinations. We will cover them on this website at a later point. However, if you do not buy a 'travel-all-you-want' pass, individual tickets can be quite pricy. However, SBB offers heavily discounted tickets for those that book ahead and are willing to give in some flexibility on their trip. Great for those travelling on a budget!
Valid for particular connections – not the entire day
Normally, if you buy a SBB point-to-point ticket, the ticket is valid for any train on that route during a specified day. This means that you have flexibility on which train to take when travelling from A to B. For SBB supersaver tickets, this is different. As the train company aims to spread passengers throughout the day, they offer discounts on less popular train departures. In exchange for the discount that a supersaver ticket offers you, you lose the flexibility of choosing any train, as your tickets is only valid the train departure depicted on your ticket. Additionally, it is important to note that the tickets are non-refundable! Do you know when you want to travel and have a flexible mindset? Then these tickets are perfect for you!
Book your ticket in advance
Supersaver tickets are primarily available when booking well in advance. My experience learns me that booking at least 6-7 days prior to the travel date increases the chances of getting a sweet deal. SBB sells tickets earliest 60 days prior to the departure date, so think of this when planning your travel. The chances of finding a supersaver ticket on popular routes for a same-day departure is low, but they are out there!
Not all destinations offer Supersaver tickets, many do
There are some very popular destinations in Switzerland that don't seem to have many Supersaver tickets. For example, the discounts on tickets to Zermatt never seem to exceed a few francs for single trips. But maybe I am not trying hard enough?
Many other destinations do have many and great supersaver deals. For example: me and my partner decided to plan a trip from Luzern to Locarno (canton of Ticino) and by booking just 4 weeks in advance, we paid 12 CHF for a single ticket (we do have a half-fare card) instead of the regular price of 29.50 CHF. That is almost 60% discount just by planning ahead. Looking for supersaver ticket availability on your planned departure date definitely pays off!
Can be combined with the Swiss half-fare card
While the Supersaver tickets already offer pretty sweet deals, discounts can be increased by combining the tickets with a Halbtax or half-fare card. These cards are both available in a 1-month version for tourists as well as yearly passes for Swiss residents and offer 50% off on all SBB trains and many discounts on other forms of (public) transport.
How to find Supersaver tickets?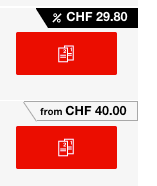 Finding the SBB Supersaver tickets is quite easy. On the SBB mobile app or website, enter your desired travel route in the 'timetable' section. Remember, you can book SBB tickets up to 60 days before the travel date. Once you have chosen a date, you will be presented with all the travel options. Travel options marked with a 'percent symbol (%) have supersaver tickets available. These tickets are subject to availability and can sell out.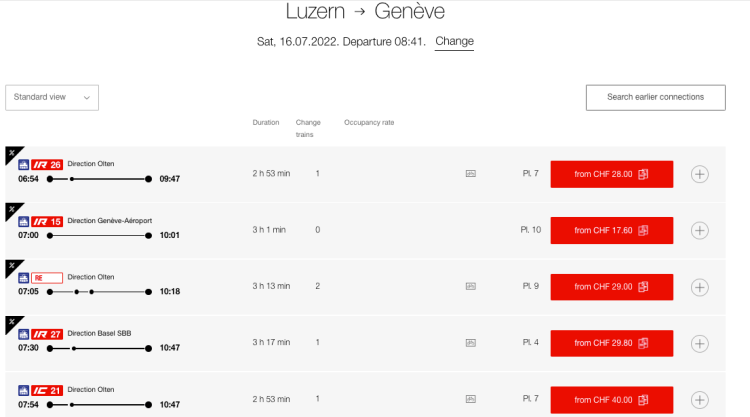 Above you can see an example of how Supersaver tickets quickly pay off. By booking the train in advance between Luzern and Geneva, I can get a ticket for only CHF 17.60 instead of the regular price of CHF 40. Again, that is over 50% discount. It does mean I have to get up early to get the 7 AM train, but it will take me to Geneva directly in about 3 hours.