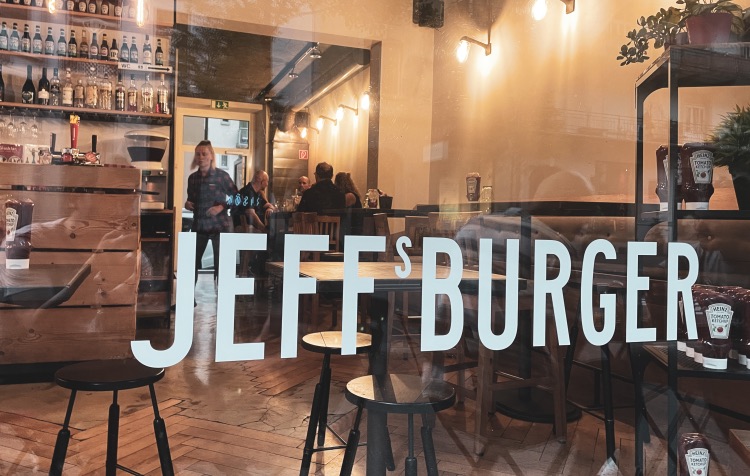 First things first – I am way better in eating food than I am in reviewing or photographing dishes. For that exact reason, you won't be seeing elaborate articles about Michelin restaurants on this website. I do however enjoying spreading the word about tasty, affordable or unique places to eat in Switzerland. And that is why I am featuring Jeff's burger, a rather typical burger joint in Luzern with incredibly tasty burgers on the menu.
Our first experience with Jeff's burger was when we only recently had moved to Luzern and Switzerland in April 2022. After a day of unpacking boxes and assembling furniture, cooking food was the last thing we were thinking about. "They must have food delivery options here, like we are used to in Stockholm, right." Turns out they do! (Although prices for delivery food options are definitely not what we were used to, but that is a different story). We decided to order Jeffs burger and loved it! As thorough reviewing is very important, we decided to actually pay the restaurant a visit in late June.
Popular restaurant In Luzern Neustadt
Jeff's burger is conveniently located in Luzern Neustadt, just a short walk from the railway station. Other popular food options in the vicinity are Blossom Alley for Asian food and La Bestia for amazing pizza. But we are here for the burgers of course!
The restaurant is a typical burger joint, with modern but simple furniture and interior and staff wearing lumberjack shirts. While the street at which the restaurant is located is quite busy, I do recommend sitting outside if seating is available. Especially on summer nights, this is a bustling neighbourhood and it is fun to be part of that vibe when enjoying your meal from Jeff's.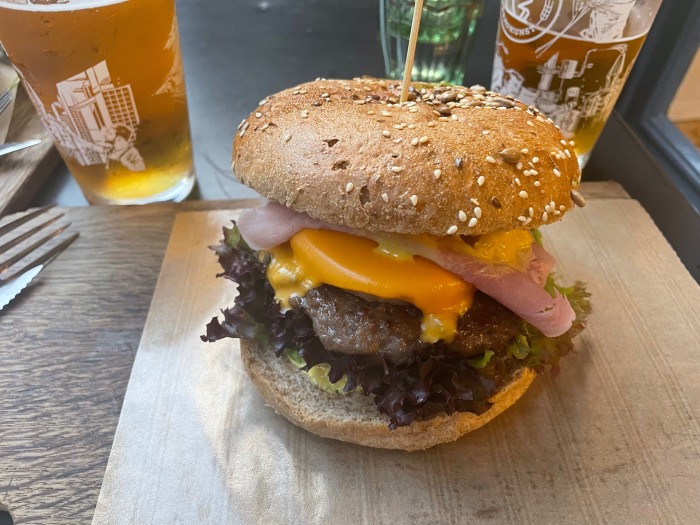 Travel the world by burger at Jeff's burger
There is one burger at Jeff's burger that has taken my heart by storm, but more about that later. Jeff's burger has a large menu of both burgers and other snack alternatives such as nachos, chicken wings and spare ribs. But it is truly the burgers that are stealing the show, with burgers with names like Bollywood, Texas and Mexican and their own distinct flavor.
My personal favorite is The Italian, a burger patty on a bun with italian ham, rocket salad, pesto and grated parmesan. Can it get any better? Other people I was visiting Jeff's with very also very enthusiastic about the Bollywood burger and the Falafel burger, but every burger coming out of the kitchen seems to to be solid.
Fries not included, but available and yummy
Unfortunately, many Swiss restaurant have hopped onto the trend of serving burgers and having customers pay separately for fries. While unfortunate, 4 CHF extra with your burger gets you a crispy and tasty portion of farmer fries. You can also find more adventurious options such as sweet potato fries and (hot) cheese fries on the menu.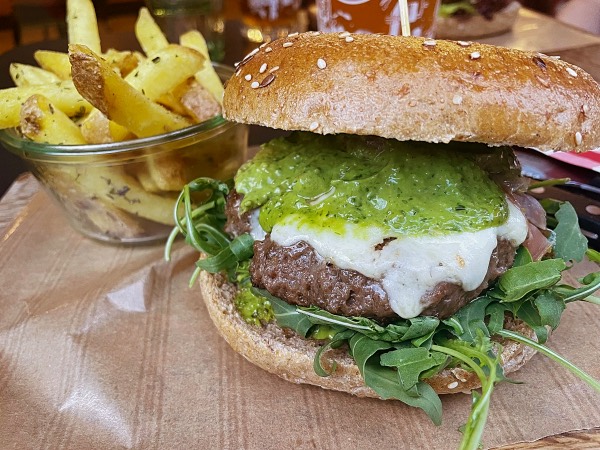 Prices : Not too bad, for Switzerland
Okay, bear with me as someone who has only been living in Switzerland for about 4 months now; It will take some time to get used to Swiss (restaurant) prices. With that being said (and me reminding myself wages are higher here to compensate these prices), Jeff's burger is surprisingly affordable considering the high food quality. The cheapest burger on the menu (Jeff's classic) costs only 15.50, meaning you can land a burger with a side of fries for under CHF 20 at Jeff's burger.
Most of the specialty burgers are around CHF 20 and if your budget allows it, I really recommend you choosing one of these options instead. Jeff's burger also has a 'Burger of the month' that often offers unique flavors.
Best burger in Luzern?
The title of this review might be a bit overkill. I wouldn't dare to say Jeff's burger has the best burgers before trying all the burger joints in town! Other restaurants such as Bierliebe & Friends also serve delicious burgers that you definitely need to take into consideration!
What I do know however is that Jeff's burger offers amazing tasty burgers for reasonable prices in one of the nicest neighborhoods in town. A perfect place to drop in after a day out and about in Luzern or before heading into the Luzern nightlife!

Jeff's Burger
Hirschmattstrasse 29
6003 Luzern

For menu, booking and more information, check Jeff's burger website.