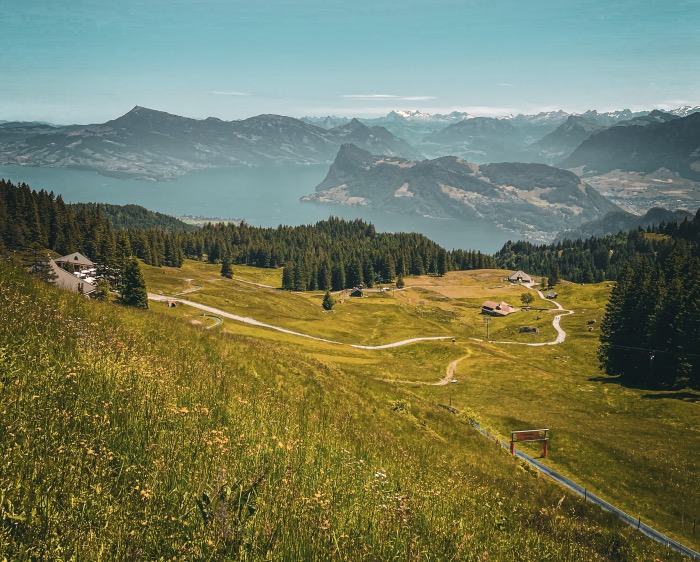 The Pilatus mountain close to Luzern has plenty of activities for all ages and type of travellers. Naturally, the cablecars and the top station offer amazing views, but you don't have to be all the way at the top to have fun! The route to the summit from Kriens has two intermediary stops, Krienseregg and Fräkmüntegg. Especially at the Fräkmüntegg stop there are many fun activities during the summer. One of them is especially popular: the Fräkigaudi rodelbahn.
Rodelbahn is the german word for a mountain toboggan or mountain coaster. The Fräkigaudi rodelbahn on Mount Pilatus offers a thrilling ride and is actually the longest summer rodelbahn in Switzerland with a total length of 1350 meters.
The activity is for young and old, children under six years old can ride the Fräkigaudi toboggan together with an adult.
While the ride might seem intense, it is good to know that every rider can decide their own speed. Are you going for a thrilling ride, or a more gentle one to enjoy the amazing views over Fräkmüntegg and Luzern further below you?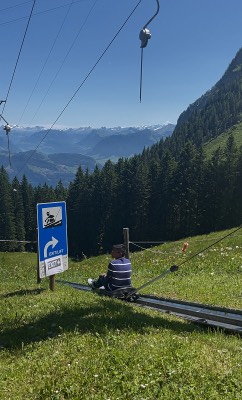 Opening times and prices
The Fräkigaudi rodelbahn allows you to use a little cart to slide down a metal half-tube. As metal can easily get (too) slippery, the rodelbahn is only open when it is not raining. Fräkigaudi is open from Mid- April until the end of October between 10.00 and 17.00. If you specifically make the trip up for the Fräkigaudi rodelbahn, make sure to check the website so the ride is open during your visit.
A single trip costs CHF 9 for adults, with slight discounts for children between 8 and 16 years old. Children that are 6 or 7 years old can ride the Fräkigaudi toboggan for CHF 5 per single ride.
Don't come for Instagram!
The ride is quite popular, so you should be prepared to wait on sunny days. The wait is worth it though with the wind in your hair while you glide down the mountain. At the end of the ride, a little lift pulls you back up (backwards!) to the starting point, giving you even more opportunity to enjoy the views.

The Fräkigaudi rodelbahn sounds like a great opportunity for taking photos or videos of your trip. However, leave your phone in the locker, or don't take it out of your pocket! Potentially dropped phones pose a safety risk and that is why usage during your ride is strictly forbidden.
Interested in riding the toboggan? You find the Fräkigaudi rodelbahn at Fräkmüntegg on mount pilatus. You need to buy a separate ticket for the cable car to get to Fräkmuntegg from Kriens (or hike your way up).
For more information, check out the Fräkigaudi website.