In Basel, it is hard to ignore the Rhine river. The city is built on both sides of this large river that originates in the Swiss alps and then continues onwards to Germany and The Netherlands. The city of Basel has plenty of bridges allowing people to cross from one side of the river to the other side of Basel. For those a little bit more adventurous however, there are more fun ways to cross the river: Basel river ferries.
The word 'river ferry' might not immediately spark your interest. You might think of motorised large boats taking big groups of commuters from destination A to destination B. The Basel ferries however have one unique characteristic: they transport their passengers solely with help of the river current. That's right, these ferries (Basel has four of them in total) transport people across the river without an engine, and have been doing so for over 170 years.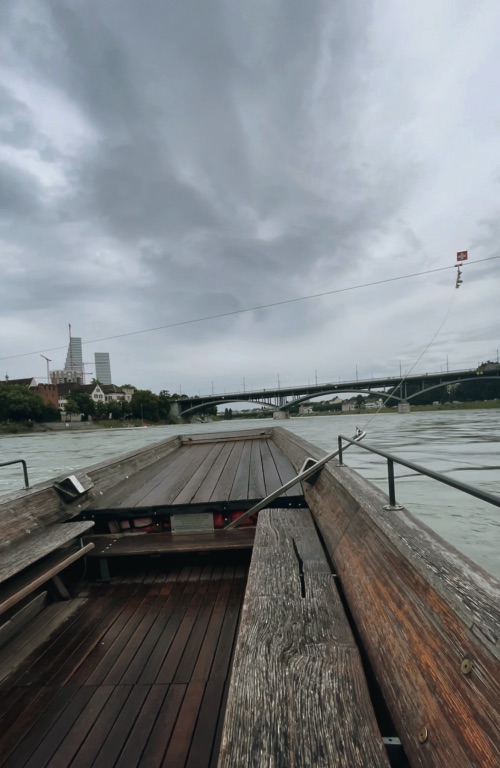 Back in the days, Basel only had one bridge to cross the river, aptly called the 'Middle bridge'. The Basel ferries allowed inhabitants of Basel to save time by crossing the river with help of the little boats. The four remaining boats are spread between the current bridges and are connected to a steel cable spanning high above the river. A captain aboard the ferries then steers the boat into the current to start the journey to the other side. The entire trip only takes a few minutes and is both relaxing as entertaining.
Practical information
When on the lookout for the ferries, simply search for the steel cables spanned over the Rhine river. Some of the cables have Swiss flags attached to them. Taking the ferry costs CHF 1.60 for adults and CHF 0.80 for children and pets. The ferries operate daily but have different operation times. Check the official Basel website for more information on when you can take these ferries. Taking the Basel ferry is a fun and affordable way to see the city from a different perspective!