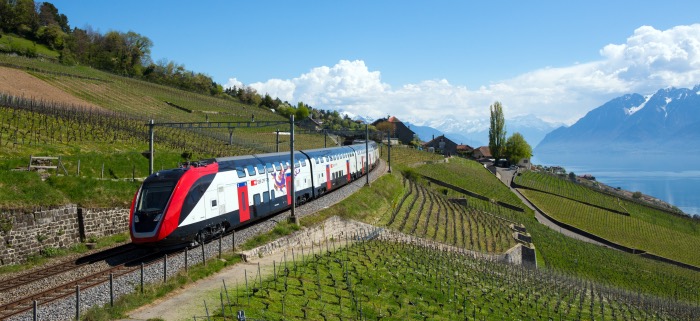 The Swiss railways have a stellar reputation of being fast, efficient and extremely reliable. Unfortunately, they also have a reputation of being rather pricy, especially compared to some other European countries. There are some ways to 'cheat' yourself to cheaper train travel in Switzerland such as the 'Supersaver tickets', but these do come with the disadvantage of losing flexibility. For a limited amount of time however, you can buy a discounted SBB day pass at Coop and Interdiscount. And they are worth running for!
Most Swiss residents have a 'Half fare card', which gives owners 50% discount on all train travel and discounts on other modes of transports for an entire year. With this card costing CHF 180 (and 165 for subsequent renewals), it is a no-brainer for everyone living in Switzerland. However, the card is not available for non-residents (Don't fall for the Swiss railways trying to rip you off by selling the 30 day version for CHF 120!).
In addition to this, visitors of Switzerland that plan on taking the train extensively during their stay, often opt for a Swiss travel pass. This is a good option, but only worth the money if you plan to travel a lot.

That leaves those travellers (and locals) that want to plan an occasional day trip without many options. There is the general SBB day pass for CHF 75, but that is quite expensive for say, a family of 4. This is where the temporary deal for SBB day passes from Coop and Interdiscount come in!
A day card for CHF 49 – even without half fare card!
Coop and Interdiscount now have a temporary sale where you can buy a SBB day card for only CHF 49! That is 35% discount over the regular price and allows you to use all public transport as outlined here for free during a day!
The day passes can be purchased for this special price until September 10 2023. The SBB day pass can be used for any day of choice, but latest on October 10 2023.
Good to mention that the day passes are sold without a date validated. This means that you need to 'activate' the day pass by stamping them at the orange ticket boxes on any train station.

Where to buy the SBB Day Pass?
The day passes are available online on Coop.ch or Interdiscount.ch. Do note that these two options will have the day passes shipped to an address in Switzerland.
As I needed some tickets for the same day, I checked which Interdiscount physical stores had them in stock, and made my way there. Everyone can buy the day passes at Interdiscount, visitors and residents alike. I was told you can buy a maximum of four (4) day passes per person.

Are you planning on a long day trip where a travel day pass could come in handy? Then make sure you jump on this deal before it is too late! Tickets not used latest October 10 2023 will lose their value.
Day pass travel tip from Luzern: Rigi
We used the day pass to make a trip up Mount Rigi. Mount Rigi is one of the few mountains in Switzerland where most transport is included in the SBB day pass! You can even use the ski lifts on Rigi with your day pass! This makes Rigi in combination with this deal a great alternative to some of the other, more expensive mountains.

Are you in Luzern on a sunny day before the 10th of October? Get yourself a discounted SBB day pass and take a cruise on Vierwaldstättersee towards 'Weggis'. There, take a short walk to the Luftseilbahn and enjoy a day on the queen of mountains!

More info: Coop.ch