So, after weighing your options, you have decided that it makes sense to rent a car for you trip through Switzerland. It could be because you want flexibility to get around quick without being dependent on the Swiss train network. Or maybe, it is cheaper to rent a car than to get train passes for your travel group. Whatever the reason is, there are a few things to keep in mind when you plan on renting a car for your trip in Switzerland. In this article, we try to outline them for you as clearly as possible. A few of these tips might be more relevant for some than for others.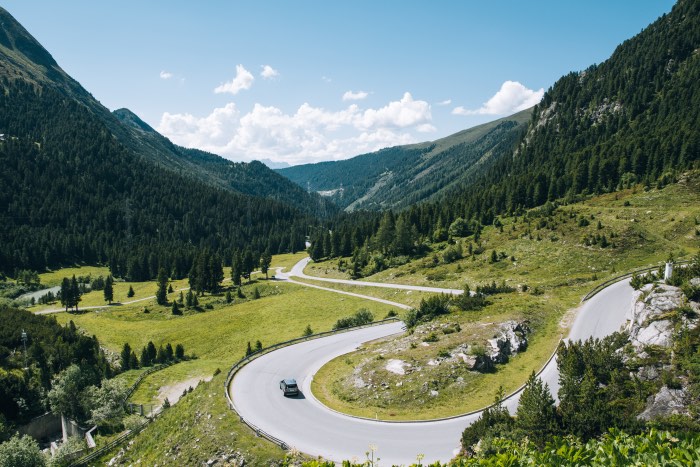 Swiss Autobahn Vignette
In Switzerland there is a vignette obligation for all motor vehicles and trailers with a total weight of up to 3.5 tons on all motorways and national roads. These vignettes need to be placed behind your windscreen and currently (2021) cost CHF 40 for a yearly vignette. The vignette is not available for shorter time periods. These vignettes can be purchased at customs offices, but also post offices and gas stations.
While all rental cars in Switzerland all have this vignette already, this is something to keep in mind if you plan on doing a European road trip starting in a different country. As soon as you enter Switzerland, this vignette then becomes mandatory. The fine for driving without a vignette is CHF 200, plus the cost of a new vignette. Quite an expensive mistake, if you happen to forget purchasing this for your foreign rental car..
In Switzerland, you drive on the right
Like in most European countries, Swiss traffic drives on the right. If you come from a country where there is left-hand traffic, make sure you get comfortable with this new rule.
Switzerland has both manual transmission and automatic transmission cars
If you are visiting from a country where automatic cars are the norms, it is important to know that Switzerland has both manual and automatic transmission cars, and this also is the case for rental companies. If you can only drive automatic cars, it is important to keep this in mind when booking a car at a rental company. This is especially important as Switzerland is a mountainous country. You should of course feel comfortable driving the car that will bring you to these higher altitudes.
Going up the mountain? Ascending vehicles have priority
On mountain roads, ascending vehicles have priority over descending traffic. This is an important rule to keep in mind to avoid confusion and potential dangerous situations. As it is easier for descending cars to continue after giving priority (and thus bringing the vehicle to a stop), ascending traffic can go first on narrow roads.
Tire chains might be mandatory in the winter
Tire chains, or snow chains, are not necessary for most of the Swiss road network. However, in some mountainous regions, they might be mandatory to use. Blue traffic signs depicting a tire with chains on will inform you when you need to equip your (rental) car with them. If you fail to do so, and end up in an accident, you might get a fine. This fine is due to driving a car that is deemed unfit for the weather conditions. On some roads, vehicles with four wheel drive will not need tire chains.
Parking fees can quickly add up
As already mentioned in our other article about renting a car in Switzerland, parking does not come cheap here. This is why it is important to plan ahead when renting a car in Switzerland. Do you stay at a hotel? Ensure there are reserved parking spots for you to use. And are you planning on visiting a large city or tourist attraction? Make sure you are well aware of parking fees in that area.
Additional Swiss traffic rules
Naturally, we can not outline all Swiss traffic rules here on this website. Both because this would be a very long article, but also because there are much better sources for this kind of information. This is why we recommend you also having a read on the website of FEDRO. FEDRO is an acronym for the Swiss Federal Roads Office and they have an informative overview of basic traffic rules.
Got it, now where do I rent a car?
All the big global rental car brands such as Hertz, Sixt and Europcar have offices in Switzerland. Renting a car is easy at all major Swiss airports and many city centres too. When planning your trip, keep in mind that returning your car to a different location often comes with an additional fee.

Do you have any tips for travellers aiming to discover Switzerland by car? Happy driving!