Okay, you are planning a trip to the beautiful country of Switzerland. You have found a sweet deal on plane tickets and found some great hotels while being there. Now the next question pops up: can I get the most out of my Swiss trip without a rental car? Having a car available can make things a lot easier, but it's not an absolute must. Let me give a breakdown of when renting a car can make your trip better, and when to avoid it!
First things first: alternatives to renting a car
Before looking into the benefits of renting a car, it is important to highlight the alternatives available to you in Switzerland. The most obvious choice is of course public transport, and the railways specifically. Switzerland has an extensive railway network that has very high reliability and covers basically the entire country. Even small train stations in the middle of nowhere have regular service with trains stopping several times a day. This makes using the train during your travel an easy, reliable alternative to renting a car to get around.
The largest downside of the Swiss train network must be the prices charged for tickets. Compared to may other European countries such as Germany, the Swiss rail network is relatively expensive. Discounted tickets are available, but they are often for trains during off-hours and need to be booked far in advance. This means that choosing these tickets makes one less flexible.
If you plan on using trains extensively during your trip, you may consider buying an interrail card or Swissrail pass for your stay.
To book train tickets in Switzerland, visit the website for the Swiss railways SBB.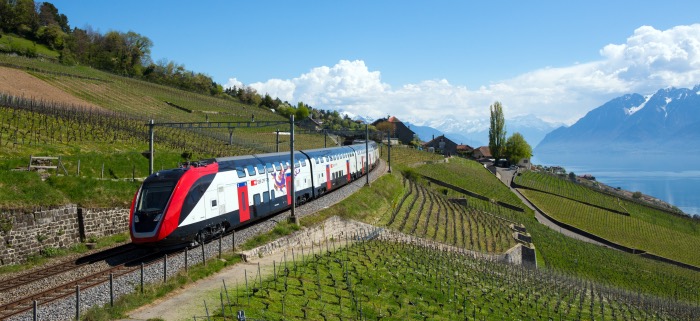 The city trip and a rental car
If you are planning to spend a large part of your trip in one of the major Swiss cities such as Zürich, Geneva and Basel, renting a car might not be a good idea. Unless you have a hotel where parking is included (and it rarely is in these cities), you will be paying hefty parking fees. Additionally, traffic in the city centers is often congested and finding parking close to whatever you want to visit will almost certainly cause a headache. Meanwhile, public transport is great in all big Swiss cities in Switzerland. Some cities even offer free public transport during your stay if you book a hotel. Notable examples are the Ticino region and the city of Basel.
This way, relying solely on public transport during your trip not only becomes a breeze, it is a smart financial choice as well. Finally, many Swiss cities are compact and therefore perfectly walkable.
A rental car gives freedom to see much in a short amount of time
The above being said, renting a car during your holiday in Switzerland definitely has advantages too. Car rental is relatively affordable if booked well in advance, and having a car gives you freedom to quickly go wherever you want. With Switzerland being such a mountainous country, train travel sometimes means inconvenient detours. With a car however, you are of course not bound by the routes of the train network. This can definitely save time during your trip.
Everyone that wants to rent a car in Switzerland should however keep in that visiting beautiful destinations sometimes requires driving on mountain roads. Inhabitants of most countries are not familiar with this and that can be a bit scary at first. But the views from those hairpin turn roads are often amazing, making it all worth it!
Traveling with more than two people and aiming to see much of Switzerland? Then, a rental car might exactly make more sense financially over buying individual train tickets. Have a look at rentalcars.com to get an idea of rental car prices. The major rental companies as Hertz and Europcar have many rental sites, often located close to train stations and airports.
As mentioned earlier, public transport in Switzerland is considered top-notch. Busses or trains might however not run as frequent as you'd like for your tightly packed travel schedule. If you want to see a lot of Switzerland and have ultimate freedom on when to move to the next destinations, a car can be a good solution.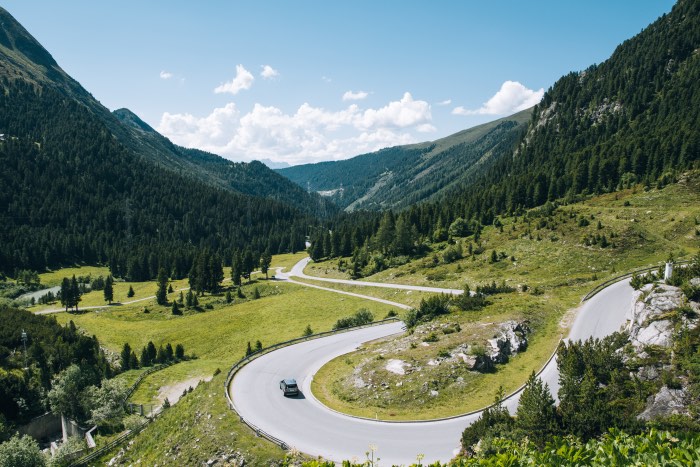 Mind the parking (fees)
Okay, you have decided to rent a car for your trip. Good choice! However, do make sure to do some research on parking possibilities close to places you want to visit. Nothing is more frustrated than arriving at a sightseeing spot, only to be stuck in traffic. When booking hotels or other accommodation, pay attention to parking possibilities and associated fees. Parking is not always free and sometimes even needs to be booked in advance!
To use Swiss motorways, a 'motorway charge sticker' or 'Vignette' is required. However, all rental cars have these so you don't need to pay anything extra.
Conclusion
The answer to 'Do I need a rental car to make the most of my Swiss trip?' is not black or white. It really does depend on what your aim is with your travel in Switzerland. For visiting big cities as Geneva and Zürich, you are best on relying on public transport. It will save you from spending a lot on parking fees and headache on where to put your car. The Swiss public transport within cities is very reliable.
However, if you are aiming to visit Swiss nature away from the big cities, a rental car might give you the flexibility and freedom you need when only having limited time. Important here is to book your rental car in advance, and do your research on available parking.