The city of Lugano looks incredibly pittoresque. Its authentic houses are built on the hillsides surrounding the lake of Lugano. Above the city center with it narrows streets and piazzas sits the Stazione di Lugano, the central train station. While the distance between the train station and the city central is only a mere 200 metres as the crow flies, it involves quite some staircases and steep streets. As a result, the trip is quite the exercise when making your way from the centre of Lugano to the station. Luckily, there is a funicular making this journey a lot more convenient!
The Funicular of Stazione di Lugano
The Funicular of the Lugano station has a long history, starting initial operations as early as 1886. The current funicular has been running since 2016 after a thorough renovation. This renovation was happening at the same time as the Gotthardt base train tunnel was built.
Nowadays, the track is 220 meters long and can transport over 2000 passengers per hour! In a mere 90 seconds, the cars take you up 50 meters (or down) with room for a hundred people. With these statistics, the Funicular of Lugano stations is one of the busiest funiculars in the country. A surprising fact, considering how short the funicular is when comparing it to other Swiss counterparts!

The funicular has a dear place in the hearts of Lugano residents, who even gave it a nickname when it reopened in 2016! The funicular is called Sasselina, after a former neighborhood of Lugano.

So next time when you consider breaking a sweat carrying your suitcase up and down the steep hills of Lugano, why not consider taking Sasselina for a spin?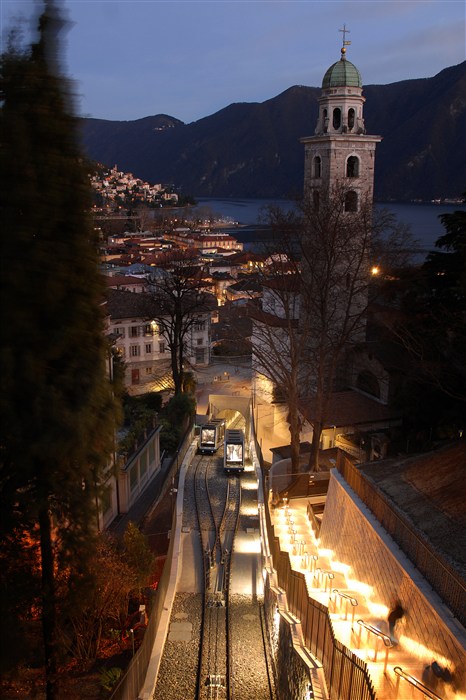 [su_box title="Practical information" style="noise" box_color="#9dc07f" title_color="#ffffff" radius="5″]– The Lugano station funicular is running daily between 5 AM and midnight.
– A one way trip on the funicular costs CHF 1.30 and you can buy tickets in the vending machines at the stations.
You can find more information on the official website[/su_box]